Danny Katz (text), and Mitch Vane (illustrator), The Poppa Platoon in Operation Dessert Storm, Scholastic Australia, October 2018, 192 pp., RRP $12.99 (pbk), ISBN 9781742769240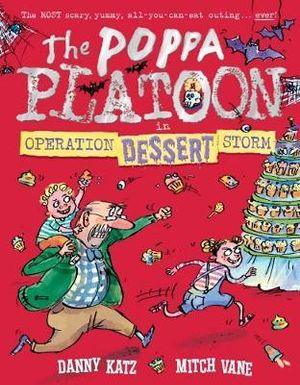 The second installment on the Poppa Platoon series, with The Age columnist Danny Katz at the helm, the zany antics of Poppa and the grandkids is guaranteed to get plenty of laughs. Complemented by Vane's illustrations this is a perfect read for readers 7 and older.
In Operation Dessert Storm, Poppa leads Abbie, Flynn and Captain Cuddles the cat of a highly dangerous and top-secret mission to conquer the hottest restaurant in town; the all you can eat restaurant.
"Today, we fight in the name of cherry n' cream cheese strudel!"
The problem is, Wibbly the Cheeky Wizard's Spooky All-You-Can-Eat Family Restaurant is a no easy place to crack. First the platoon must pass the cranky and Spooky Door Witch, and the mighty and formidable wizard himself. Is he an old foe of Poppa's, or a long-lost friend from Poppa's old days of dessert wars? A covert under table dash leads to an encounter with the Freckly-Twin Chicken -Balancing Buffet-Bandits before it all comes to a delicious, sugary crescendo where secret identities are revealed. All the in the name of dessert.
Plenty of ridiculous and gross gags for young readers. The series is sure to develop a following. Expect more in the series.
Reviewed by Belinda Raposo