Mitchell Starc (text), and Phillip Bunting (illustrator), Not Out! (Mighty Mitch #4), Scholastic Australia, October 2018, 144 pp., RRP $12.99 (pbk), ISBN 9781742769165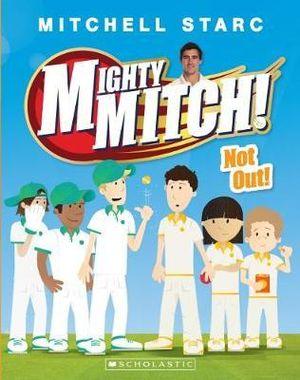 Not Out! is the fourth book in the Mighty Mitch series by Australian cricketer Mitchell Starc, illustrated by Philip Bunting. We have previously reviewed book one, Aussies vs England Game On! and Clash of the Keepers!, Book three
Mitch plays for the Wombats Under 10's cricket team.  They have reached the semi-finals and are excited to play the Crocodiles.  However, their good luck seems to have run out and the Crocodiles have a few new players who are just too good, but also not very nice.  The Wombats lose the match and take the defeat heavily.  But the coach, Mitch's Dad, has some great news – the Crocodiles cheated and now they've been discovered. Their win is stricken from the record and the Wombats are given a second chance at the semi-final. This time, the Wombats are serious and Mitch discovers that luck is on their side.
This is a great junior fiction series for cricket fans but also children who love a laugh.  It's packed with funny rhymes, jokes and odd-ball characters.  I can't say that I'm a big fan of cricket but it didn't matter, I was able to follow along with the story and enjoy the humour. I also loved the emphasis on working as a team and helping each other out, and the message that there are some things you can't control, like luck.
I recommend Not Out! for young cricket lovers, any child who loves humour and reluctant readers who will enjoy the lightness of the plot and the simplicity of the language.
Reviewed by Pamela Ueckerman