Lynne Lumsden Green, Summer Brook Spring, Iron Bridge Publishing, March 2021, 198 pp., RRP $21.40 (pbk), ISBN 9780648651376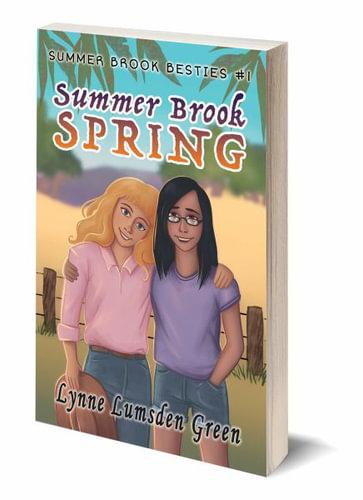 Freya Patel isn't happy to have been dragged away from London and all her friends to live at her Gran's farm in the middle of nowhere in Queensland for a year. There isn't even any internet connection there! There are, however, baby chicks and calves, and best of all, there is a girl her own age on the neighbouring farm. Emma likes the same books and is excited to have a potential new friend to talk to and share things with. Maybe Gran's farm won't be so bad after all.
Summer Brook Spring does a wonderful job of describing life on a rural farm in Queensland, and through Freya's eyes we get to see the landscape and the day-to-day details of remembering hats and sunscreen everywhere they go, trips to the nearest town becoming a big deal, and the creatures both cute and bitey. Lynne Lumsden Green has included short pages at the end of each chapter that gives additional information on subjects like the history of Queenslander home and deadly creatures in Australia, which give added background to the story, and which a young reader might find interesting.
Most of the book focuses on Freya and Emma bonding and finding common ground over the birth and care of a new calf, and Freya's sense of homesickness in contrast to her growing interest in her new home. While a potential storyline is introduced in the form of the estate agents who are interested in Gran's farm, the dramatic narrative potential of that isn't explored in this book beyond the passage where they turn up, and a brief mention in the last pages. Presumably this plot point will be developed further in future books in the series, but it did feel a little abrupt and underdeveloped here.
This book felt more like the opening chapters of a story arc rather than a developed story in itself, but it would make a good solid read for 8 to 11 year olds who enjoy books like Holly Webb's Animal series, or the friendships of the Babysitters Club books.
Reviewed by Emily Clarke