Pip Harry, Are You There, Buddha? Hachette Australia, June 2021, 288 pp., RRP $16.99 (pbk), ISBN 9780734420305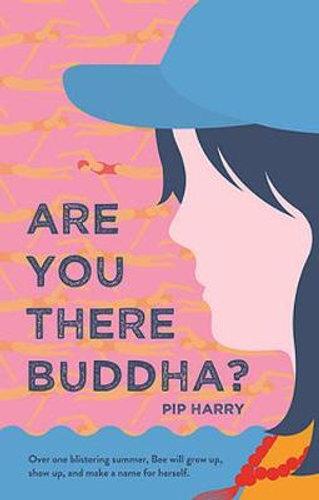 Are You There, Buddha? is the latest offering by award winning author Pip Harry. It's the story of Bridget 'Bee' Ballantine a twelve year old girl navigating puberty, family, friends, starting high school, and pursuing personal goals.
The title is a riff on the Judy Blume novel, Are You There God? It's Me, Margaret. Unlike Margaret, Bee is desperate to avoid the onset of puberty. She's a dedicated swimmer and the arrival of breasts, pubic hair and ultimately her period just doesn't seem to fit with her goals.
There are many things I loved about this book. Firstly, Harry's bold choice of style, something she describes as not strictly verse but rather a narrative in verse, with stanzas, interspersed with some prose dialogue. A hybrid model! This style works for a novel aimed at younger readers, as it is a bit like notes passed in class: short blasts of information that leave you waiting for the next piece.
Secondly, I loved that in this novel Harry manages to avoid many of the tropes of YA fiction. For example, Bee's best friend is Leon. They love skateboarding, swimming and hanging out but when Leon asks Bee to be his girlfriend (because he is feeling pressure from his friends) she declines (not very elegantly) because at 12 she wants a friend not a boyfriend. Thirdly, I loved the central character Bee because she is incredibly relatable. She makes both good and bad choices because she is figuring life out. She is not polished and perfect.
Fourthly, the many portrayals of mothers in Are You There Buddha? particularly caught my attention. The book features an abusive mum, a neglectful mum, a step-mum, a MOB (mother of only boys). With regard to Bee's own mother, the reader learns that the reason for Bee's interest in Buddhism is that her mother has abandoned her to pursue "enlightenment". This is contrasted with another mother who escapes to pursue enlightenment but takes her whole family with her. I am not sure if it was the author's intention, but the text provides readers with an array of motherhood archetypes and stereotypes. These representations could be useful for introducing young readers to textual analysis.
Finally, that the text manages to touch on issues that young Australian readers can relate to such as bushfires, concerns about climate change and conservation, bullying and the transition from primary school to high school.
Taken together, Are You There, Buddha? is a delightful contemporary read. I would wholeheartedly recommend this book for readers aged 11-14 years. The novel structure is likely to make it an appealing read even for reluctant readers.
Here's hoping that Are You There, Buddha? like it's inspiration, Are You There God? It's Me, Margaret, will still be being read in 40+ years.
Reviewed by Anne Varnes