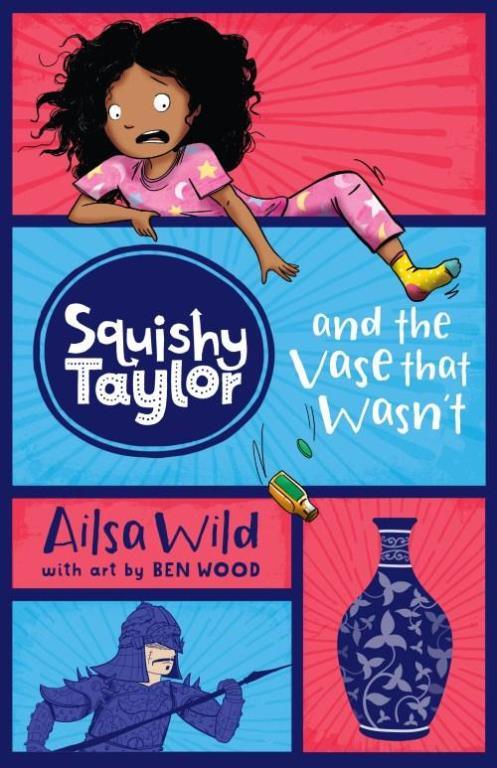 Ailsa Wild (text),  Ben Wood (illus), Squishy Taylor and the Vase that Wasn't (Squishy Taylor #3),  Hardie Grant Egmont,  1 March 2016, 118pp.,  $12.99 (pbk),  ISBN 9781760126673
Squishy is a girl detective who has to solve mysteries as well as deal with the joys and frustrations of living in a blended family. Squishy Taylor and the Vase that Wasn't is the latest in a series that includes: Squishy Taylor and the Bonus Sisters and Squishy Taylor and a Question of Trust.
In this book, one of Squishy's neighbours' possibly Ming Dynasty vase is stolen by a possible ghost and Squishy and her step sisters, or her bonus sisters as she calls them, attempt to solve the mystery.
I didn't enjoy Squishy Taylor and the Vase that Wasn't myself: the plot is implausible and overly dramatic and I didn't like the mixture of fonts used throughout the text. However, the book is not written for adults, it is written for little girls and little girls will love it. Squishy is a very strong character who uses modern technology and takes enormous risks to solve the mystery. There is plenty of climbing, a little hacking of security footage, a ghost busting ceremony and lots of dramatic statements such as: 'The night feels enormous, spreading out from the roof.'
The Squishy Taylor books are suitable for children aged seven to nine.  The series is supported by a dedicated website.
Reviewed by Katy Gerner