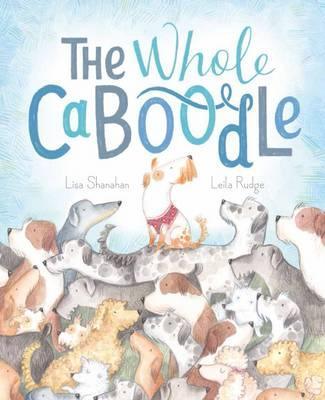 Lisa Shanahan (text),  Leila Rudge (illus),  The Whole Caboodle,  Scholastic Australia,  1 April 2016, 24pp.,  $24.99 (hbk),  ISBN 9781743629321 
The Whole Caboodle seems to be, at least initially, a picture book for small children about a man and his dog going for a walk; with reference to cross-bred dogs with one poodle parent. Families who live with actual Irish Troodles, Goldendoodles and Pomeroodles now have a book with which they can identify.
However my interest in the book is the number of unusual words included in the text to entertain and test the mental agility of parents.  The phrase 'the whole caboodle', for example, is an American idiom which means all of something as well as everything that it is connected with it. Other interesting and recognisable word combinations include lovey-dovey, fuddy-duddy and hoity-toity. This will make reading aloud more pleasurable for both the reader and listener. Not all the word combinations are real word combinations; I couldn't find 'snuggly-juggly' and 'dizzy-whizzy' in any dictionary. But they do provide a nice touch of rhyme.
Interestingly, Shanahan is the author of Big Pet Day which won a Speech Pathology of the Year Award in 2015 in the five to eight years category.
The pictures in The Whole Caboodle are also great fun. I liked the sketches of the dogs on the walls of the main character's bedroom as well as the broken pot plant damaged by the dog when he tugs the curtain. I also liked his slippers – blue with dogs' heads and the Pomeroodles topiary he passes– very entertaining.
Reviewed by Katy Gerner