Phillip Gwynne (text), and Tony Flowers, (illustrator) Small Town, Penguin Random House Australia, August 2020, RRP $24.99 (hbk), ISBN 9781760893484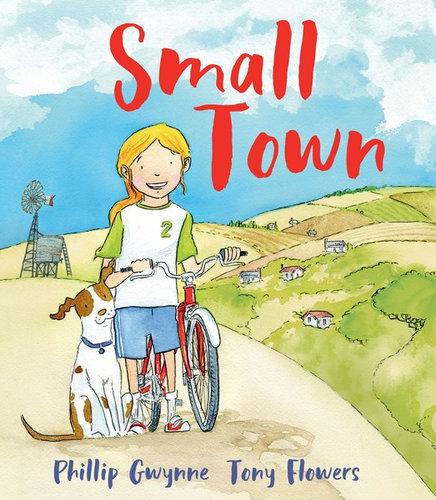 Milly lives in a small country town and loves the place and the people. The problem is, families keep leaving to go to the city, and her basketball team is now too small to play a game! Hearing about the plight of refugees, Milly and her family and friends make a video to highlight the benefits of living in her town – plus there are plenty of empty houses and there is work that needs doing! Eventually refugees start arriving, and while initially met with trepidation and reluctance by some in the community, they revitalise the town and enrich the lives of the people who live there.
This picture book is based on a real-life town in Victoria, and shows the positives to rural Australia when dying towns receive an influx of people with the energy and enthusiasm to become a part of the community and boost the local economy. It is a gentle and uplifting story with a satisfying ending. The watercolour illustrations by Tony Flowers match the tone of the story very well and are visually very appealing. This book should do well in public libraries (especially those in small towns!) and in primary schools. Suitable for pre-school and primary ages.
Reviewed by Rebecca Kemble