Pamela Freeman (text) & Liz Anelli (illustrator), Dry to Dry: The Seasons of Kakadu, Walker Books Australia, August 2020, 32 pp, RRP $22.95 (hbk), ISBN 9781760650285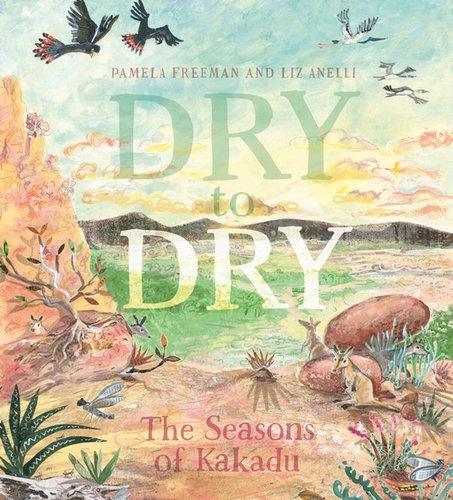 The dynamic duo of Pamela Freeman and illustrator Liz Anelli have joined forces to create a stunning mixed media book celebrating the natural wonder and cycles of the Kakadu. This is the follow up to Desert Lake and part of the Nature Storybook series. The story begins:
It is the Dry…
The changing from dry to wet is told through the changing of the climate and the hints and movements of native and migratory animals. Curlews arrive from the Arctic Circle… Magpie Larks sing whilst building their nests of mud and grass… Soon the wetlands come alive.
Dry to Dry will engage readers 5 and up, with the end pages containing plenty of additional resources for further study and activities. The indigenous people of Kakadu, the Bininj and Mungguy people, understood there are six seasons in this part of the country, and the names for each are listed and explained as they pertain to the various parts of the story. A map and index further support inquiry and learning.
A highly recommended celebration of one the most stunning and unique parts of our country.
Reviewed by Belinda Raposo