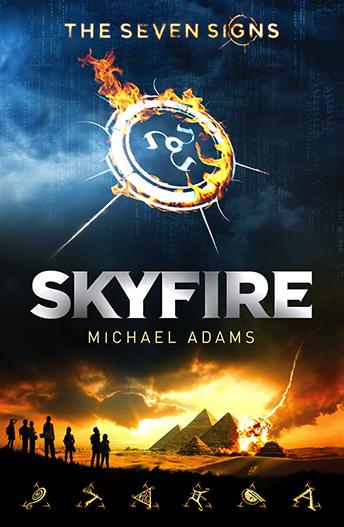 Michael Adams,  Skyfire (The Seven Signs #1), Scholastic Australia,  Sept 2016,  192pp., $12.99 (pbk) ISBN 9781743628010 
Skyfire is the first in a series of seven young adult novels, set in a futuristic but recognisable world. The story centres around seven teenagers, chosen as winners of the first ever DARE Awards for their various scientific, philanthropic and journalistic pursuits. These awards are given by the enigmatic and brilliant Felix Scott of the Infinity Corporation. Much like in the classic cartoon Captain Planet, the teenagers are from around the world, chosen from each of the seven continents. Soon after receiving the awards and meeting each other, each DARE winner receives a message containing a strange symbol, which links to a countdown. What will happen when the countdown reaches zero? Can the teenagers work together to figure out the meaning of the symbols?
Introducing seven different teenage characters in a book as short as this is an unenviable task. Understanding this is only the first in a series of seven helps to understand the depth in which we meet some characters and the glimpses we get of others.
Adams writes with pace and energy; the action sequences are the most exciting parts of the novel, including stalking two potential bad guys through a cemetery and a terrifying motorcycle chase through a rioting Cairo.
The mystery of the symbols will appeal to those younger readers interested in codes and code-breaking. The first set of symbols are decoded by the group of teenagers, but the second is introduced just as the book is finished, leaving the reader excited to get the next instalment! The futuristic sci-fi elements will likewise appeal to tech-savvy youth. Robots, HoloSpaces, InfiniFones and Space-Skimmer flights all feature.
The characterisation in Skyfire can be simplistic at times, but the length of the series gives me hope that these characters will become more developed and their relationships more complex as they face more challenges together. A teacher or librarian could recommend this book to older readers in primary school, or younger ones in secondary. There are many interesting ideas to be explored with students here, about code-breaking, geography and international co-operation.
Reviewed by Madeleine Crofts