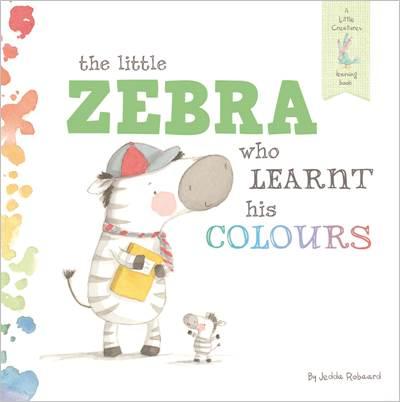 Jedda Robbard, The Little Zebra Who Learnt His Colours,  Five Mile Press,  Sept 2016, 12pp.,  $16.95 (board book),  ISBN: 9781760402860
Little Zebra loves to paint using bright colours. He decides to paint all the colours in his garden, including the red of the poppies and the cheerful orange of the marigolds.
The landscape of picture books about colours is full and varied. Which is why it is lovely to say that Robaard's addition to this landscape is delightful and charming. The clever typography has the colour names large and bright, making them readable (guessable) for young readers – an exciting prospect. The flaps reveal captivating details: bees in beds, vines climbing up to clouds, and a splendid masterpiece is the grand finale.
Preschool and Foundation teachers could use this book as a starting off point to explore the world of colour – both in and out of the garden. When walking through their own gardens, the students could find the same flowers or others. What colours could be found in their classrooms, their school yards? Art teachers could explore the way in which Robaard has illustrated the different flowers, using not only the different colours, but different shapes for each.
This book could be teamed with other picture books about colour, such as Brown Bear, Brown Bear, What Do You See? by Bill Martin Jr and Eric Carle, or another book about both colour and gardens, Planting a Rainbow by Lois Ehlert.
A lift-the-flap board book, this is perfect for the very young through to early primary school readers.
Reviewed by Madeleine Crofts