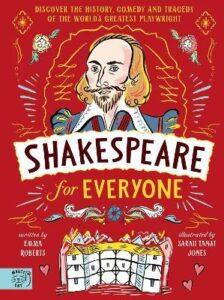 Did you know that Shakespeare was more famous as a poet during his lifetime than a playwright? Considered a more serious and respectable form of writing, poetry attracted an educated class of reader and possibly patron; he wrote around 160 poems to about 38 plays.  Today however, Shakespeare is equally known and respected for his plays which cover multiple genres such as histories, tragedies, comedies, and romances.
Emma Roberts' Shakespeare for Everyone, explores and gives context to his works providing historical backdrop, people of influence and places of importance, such as his connection with the Globe theatre along with discussion and examples of his plays. The author also raises the intriguing question of Shakespeare's authenticity as writer and playwright; since Victorian times there have been 77 individuals or groups named as possible writers of the works attributed to Shakespeare. None, as yet, have been proven as valid claims. Shakespeare's legacy is also explored, from his influence in the visual arts, performance, film, and music to the way we use language.
Roberts' text is brought to life by Sarah Tanat Jones playful illustrations, with colour blocks denoting aspects of history or dialogue from plays and poetry. A table of contents and glossary are also included as well as a timeline of his works.
A wonderful overview of Shakespeare's works for readers with some or no experience of The Bard and his world and a great addition to home or school library.
Highly recommended for readers age 13+ years.
Reviewed by Mem Capp