Donna Rawlins, Our Library, Wild Dog Books, March 2022, 32 pp., RRP $24.99 (hbk), ISBN 9781742036342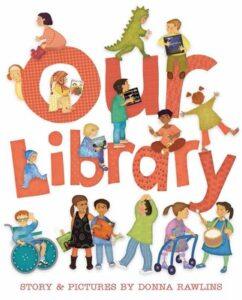 Poor Suzy the librarian must be exhausted at the end of each week. Not only does she have different activities for all the children and their accompanying adults every day from Monday to Friday, but she also opens the doors at 8.30 in the morning and works weekends as well! Monday is making new friends day, Tuesday is a noisy dinosaur day, Wednesday is 'I can do it' day, Thursday is wiggle-and-jiggle and Friday is nature day. How she has any energy left for everyone and everything day at the weekends is anybody's guess.
This celebration of public libraries and their importance to their local communities shows their value to families and children of every type. There are children with disabilities, pregnant mums, mums in hijabs and other national dress, Indigenous children with their Aunty and assorted Dads. Other books by Donna Rawlins can be found on the shelves or clasped in eager arms.
While there is a barcode scanner at the checkout desk and a couple of computer monitors in the background, technology is notably absent. This book is all about the children's programs that libraries run and the welcoming community meeting places they provide. The artwork is colourful in slightly muted tones with pictures taking up the whole double-page spread or a full single page with uneven curved backgrounds of various colours on off-white pages.
This is a joyful book celebrating the valuable and important services libraries provide. Long may they continue.
Reviewed by Lynne Babbage