Frann Preston-Gannon, The Every Baby Book, Walker Books, March 2022, 30 pp., RRP $18.99 (board), ISBN 9781913520373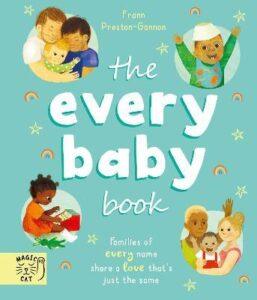 This early learning experiences book, from award winning illustrator Frann Preston-Gannon is a day in the life of six urban families with babies. Through simple rhyme and richly detailed digital illustrations we watch each baby's routine unfold until the families come together for a first birthday party in the park at the end of the day.
Families of every name… share a love that's just the same.
Every baby starts their day, each one in a different way.
From wake up, play time, eating and rest we see ways in which each family is different and how they all share that unique bond of love and devotion.
This wonderfully inclusive title is a real pleasure to share with little ones 0-5 years and parents will find the daily realities expressed in Frann Preston-Gannon's detailed artwork instantly relatable. This truthful depiction of modern family life celebrates those early experiences in all their messy glory from smiles and cuddles to tantrums and dirty nappies.
'Baths, books, bottles, stars above, baby, sleep now… wrapped in love.
 Reviewed by Lisa Hoad