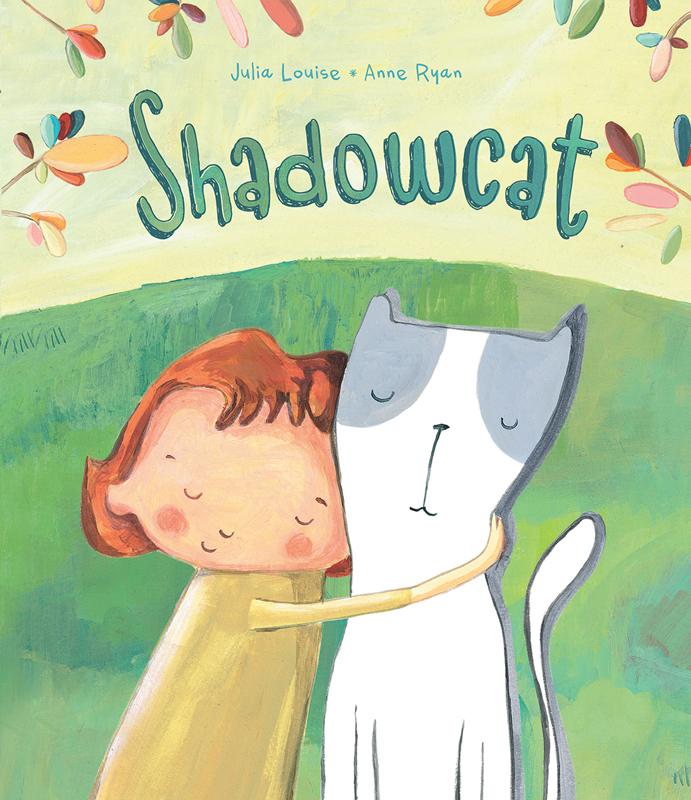 Julia Louise (text) Anne Ryan (illus.) Shadowcat,  The Five Mile Press, August 2015,  32pp.,  $19.95 (hbk)  ISBN 9781760067090
This is a gentle but not flippant story of a mystical cat that shakes a young Edith out of a 'gnomishness' that has descended upon her since the birth of her new sibling, and helps her re-engage with her family and life.
Despite the childlike innocence in the pastel illustrations, there is a weightiness to the story of Edith who has lost her spark and the cat that mysteriously appears to teach her to dance and dream through the darkness. The whimsical oil-painted illustrations with a predominance of green and blue (with splashes of red-brown) reflect the variation of mood in the story – at times humorous and light-hearted, at others times threatening, reflective, comforting and hopeful.
Reminiscent of a fable of old with the garden gnome metaphor for Edith's heaviness of heart (almost paradoxically) giving the story a light-hearted touch from the start: "Edith worried she might be turning into a garden gnome." And later: "'Are you a gnome?' asked the cat. 'Not yet,' said Edith."
A book to help children, especially older siblings, explore the heavier feelings in a context of comfort and hope.
There's even a cute and informative video trailer on Vimeo.
Reviewed by Debra Tidball