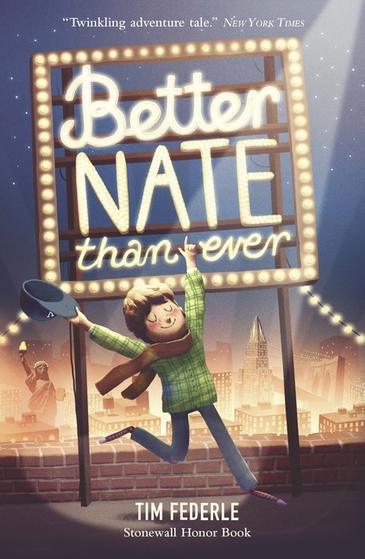 Tim Federle, Better Nate Than Ever, Walker Books, 1 May 2015, 288pp., $12.95 (pbk), ISBN 978 1 4063 6153 7
Nate is a misfit in his community: he is a short, stuttering, spotty 13 year old, from an unhappy home who is bullied because everyone believes he is homosexual. Nate is unsure of the veracity of this belief, which seems fair enough to me. I can remember plenty of boys being bullied about their sexuality at high school on the fairly flimsy grounds that: they played the piano, were very shy, didn't have a father, ice skated or had excellent verbal skills. Nate loves singing and dancing and gets good grades in Creative Writing. So what hope is there for him?
Nate describes himself as gentle-souled, but in some ways he is an unlikeable character, which is rather clever of the author because it explains why some of the characters in the book hate him. I didn't like him initially because he stole his mother's ATM card. Actually Nate also stole his brother's ID card and he lies a great deal but he believes that this is necessary because he is running away to New York City to get a part in ET – The Musical. 
Better Nate Than Ever is narrated by Nate and written largely in the present tense which keeps the action moving and allows you to view the world through his eyes. He loves New York and his descriptions make the reader see it very clearly.
'And as I walk in Montego's – its overhead fluorescents bouncing something awful: its music pounding a foreign calypso thump; its floor littered with tossed off shoes, with shorts fallen from the mondo racks – I decide I've never felt any more at home than I have today, in this city that whizzes past me. 
In this city that, brilliantly, couldn't care less about me.'
Better Nate Than Ever is suitable for children aged 12 and over: I wouldn't recommend it for anyone younger because the misery Nate faces in the book is very realistic: misfits are victimised simply because they are different. That said, Better Nate Than Ever it is not an unhappy book – Nate has friends, finds support and as for his dream… well you will need to read the book.
Reviewed by Katy Gerner