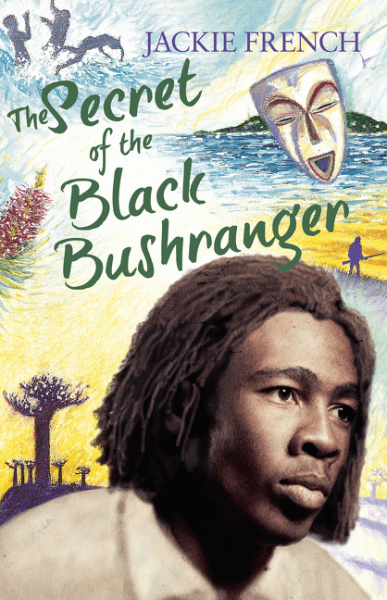 Jackie French,  The Secret of the Black Bushranger,  HarperCollins,  23 Jan 2017, 176pp.,  $14.99 (pbk),  ISBN: 9780732299453
Set in the new colony at Sydney in the 1790s, this is the third book in French's The Secret Histories series about Barney , the orphaned son of a convict mother.
Barney is cared for by the kindly clergyman, Mr Johnson, and his wife, whose characters are based on the real clergyman Johnson of the early colony. Having been granted farm land, Barney begins young adult life with a promising future.   Not so for Black Caesar who Barney encounters one night when Caesar seeks sanctuary in the Johnson household.  As Barney matures and pursues a life on his own,  he again encounters the troublesome Black Caesar who becomes the colony's first bushranger. The moral dilemmas and difficult decisions that Barney faces through his association with Black Caesar present interesting points for discussion.
Jackie French has an extraordinary talent for weaving interesting historical facts into her stories.  For the first time, reading this book, I gained a good understanding of the Rum Corps, its corrupting effects and the efforts to contain it.  French's descriptions of everyday life in the early colony, which include the harsh realities of suffering and cruelties, are vivid and believable.  I am a little concerned though that some of the detailed description of more mundane aspects of colonial life, such as Barney's farming practices, may bore youngsters who are used to faced paced amusements.
On the whole, I think this book will entertain readers (ages 9-12) whilst also informing them of the conditions in the early colony.  It is yet another gem from Jackie French, one of Australia's highly accomplished children's authors.
Reviewed by Barbara Swartz