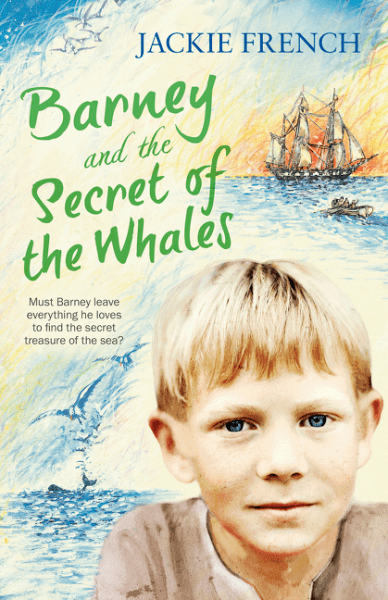 Jackie French (text),  Mark Wilson (illus),  Barney and the Secret of the Whales (The Secret Histories #2),  Angus and Robertson/HarperCollins Australia, 1 Feb 2016, 130pp., $12.99 (pbk),  ISBN 9780732299446
Set in 1791 Barney and the Secret of the Whales is about twelve-year-old Barney Bean, whose convict mother died during the voyage to Australia. Now Barney and Elsie, the orphan he has befriended on board the ship, both live in the developing colony of New South Wales with the clergyman Mr Johnson and his wife and baby. They are treated well and have a good life in Sydney Town although the nightmare of the convict ship still haunts them. The Johnsons have taught them how to be well-mannered, hard-working and useful. When Captain Melvill offers him a chance to join the crew on the whaling ship, Britannia, Barney is convinced that this is his chance to become rich and build a home when he returns from the voyage.
Aboard the whaling ship Barney's job is to climb to the perilous cross-yard, strap himself to the swaying foremast and watch for the whales. What begins for Barney as an exciting, if dangerous, adventure soon turns into a feeling of being trapped as he has signed his life away in a three-year contract. He learns how men turn something alive and beautiful into lifeless cargo for money and, while killing the whale means gold for the men, it means heartache for Barney. He watches as the huge creature of the sea is hunted down and gruesomely killed and then he must help with the "harvesting" of the whale's hide, blubber, oil, whalebone and any part of it that can be sold.
Through this experience, Barney discovers his true self and learns that he is a landsman at heart who loves plants, trees and the soil. He can hardly believe his luck when after a few weeks at sea the Britannia is forced to return to Sydney Harbour where Barney hopes to remain home for good.
In this second book in The Secret Histories Series we learn that the early Australian colony was built on whaling. Jackie French has based the story on historical facts and details about the early fleets and whaling procedures. The story comes to life through Barney's voice as he recounts his experiences. The small black and white sketches by Mark Wilson at the beginning of every chapter are interesting and evocative and capture the essence of each important episode in Barney's journey.
Suitable for 8 to 12 year olds, this sixteen chapter paperback novel with informative author's notes at the end is an engaging and beautifully written story and an enjoyable way of learning more about Australian history.
A Teaching Guide can be found on the HarperCollins website.
Reviewed by Grace Nolan