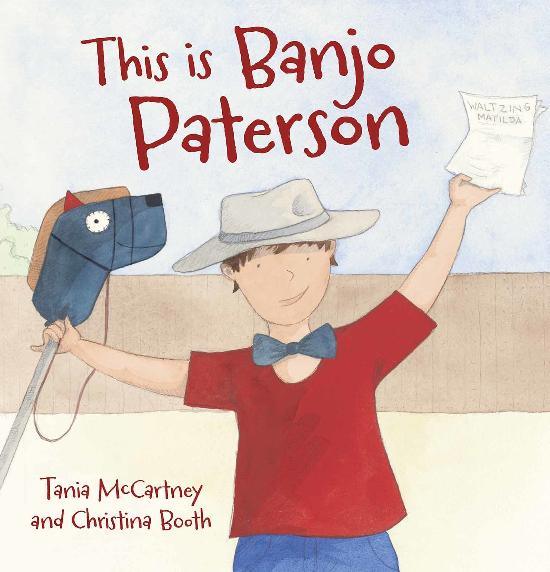 Tania McCartney (text), Christina Booth (illus.),  This is Banjo Paterson, National Library of Australia,  1 Feb 2017,  40pp.,  $24.99 (hbk),  ISBN: 9780642278982
This delightful picture book provides a brief biography of Banjo Paterson, famous, iconic Australian poet of the 19th and early 20th Century.  With brevity of words the story recounts Paterson's life and his many and varied accomplishments and interests, from childhood and through an eventful adulthood. There is rhythm, bounce and energy to the narrative's language which conveys well Banjo's humour and his love of life, poetry and the Australian bush.
The text is accompanied by lovely, soft water colour illustrations which are set in a modern suburban Australian backyard, with Hills Hoist and paling fencing.   Modern day children are enacting the events of the narrative using props, such as a stick hobby horse.  The amusing rhymes spoken in speech bubbles by the Paterson character are both entertaining and also serve to further develop Paterson's personality and a sense of his poetry. While the illustrations are contemporary, lively and colourful, I wondered whether the setting of his ballads would have been better evoked with illustrations depicting Banjo's era.
This book would serve well as both an entertaining story and as a useful educational text about Paterson.  More detailed facts about him are provided at the back of the book in a formal style, using a charming newspaper spread format. I also enjoyed reading the Paterson poems transcribed on the back page.
Reviewed by Barbara Swartz