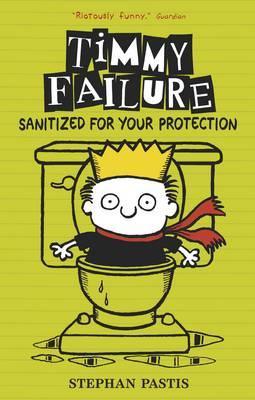 Stephen Pastis,  Sanitized for your Protection (Timmy Failure #4),  Candlewick Press,  1 Oct 2015, 278pp.,  $17.95 (pbk), ISBN: 9781406363494
Timmy Failure is keen to solve mysteries, in fact he sees himself in the role of detective – founder, president and CEO of Failure Inc.  Timmy spends all his energy and most of his waking hours recruiting the help of friends and unsuspecting acquaintances to reach his goal.
This is the fourth memoir in the Timmy Failure series by Stephan Pastis, so it would be fair to assume that the books have been popular but, try as I might, I couldn't find very much to recommend it.
Timmy Failure is a challenging child who knows no boundaries, and ignores the adults who try to put some in place.  The premise of problem solving for a worthy cause is a sound one – in this case, finding the stolen money that was intended to buy books for a needy child – however Timmy obnoxiously uses inappropriate and deceitful strategies toward this end.  Timmy does little to piece together the clues to solve the mystery himself preferring to rely on others to find the answers.
The humour and tone are very American so it is difficult to work out the audience to whom this book is intended.  The terminology and numerous references would need constant explanation for young audiences and, even though there is a bit of toilet humour to generate the occasional giggle (maybe), I wouldn't choose to read it to my 5 year old grandson nor give it to his 8 year old brother, a prolific reader.
I have a feeling this book was great fun to write but unfortunately this reader never really got the joke.  Perhaps I am the wrong generation – or perhaps I just like the protagonist to have at least one endearing quality.
Reviewed by Jennifer Mors