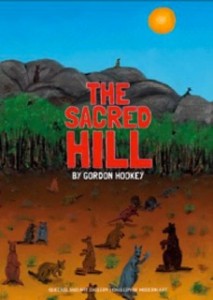 HOOKEY, Gordon The Sacred Hill Qld Art Gallery/Gallery of Modern Art, 2013 unpaged $14.95 ISBN 9781921503597 SCIS 1623087
This is a colourful large format book.  The artist, an indigenous Australian of Waanyi people, lives and works in Brisbane.  His illustrations often cover both pages, so the book opens out on images that can be explored for their detail and enjoyed for their rich, dense colour.
The story centres on a sacred hill populated by happy kangaroos.  Their idyll was disturbed by flocks of myna birds that eventually drove out the kangaroos.  After many years in exile, the kangaroos wondered what would happen if they became one united mob.  They mobilized.  That's what mobs do.  The rest of the story follows what happened when they got back to their hill and spoke to the myna birds with one voice.
This is a story with many possible lessons and messages, one to talk over as much as to linger over for the energy and life in the illustrations.  Children 4 to 6 years.
reviewed by Kevin Brophy