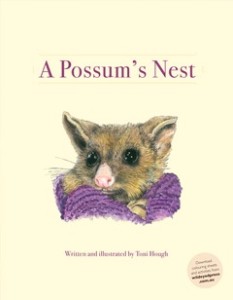 HOUGH, Toni A Possum's Nest Wild Eyed Press, 2013 unpaged $14.95 pbk ISBN 9780987505408
Told in rhyming verse, Lily finds a baby possum on the lawn in her garden.  She sets out to try to help him find his home.  Through her search, readers are introduced to a variety of native Australian birds and animals and the design of their nests.  There is a repeated refrain, which young children will identify and join in with.
The illustrations of Lily are rather static but the animals, birds and vegetation are appealing and will invite close examination to find hidden details.  Young children will be hoping that the baby possum's nest is found and it will be returned to its mother.
reviewed by Julie Long