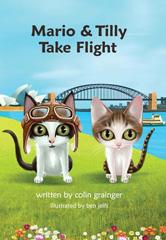 GRAINGER, Colin (text) Ben Jelfs (illus.) Mario & Tilly Take Flight Poeology, 2013 unpaged $24.90 pbk ISBN 9780987397966 SCIS 1651842
Colin Grainger spent a 40-year career working in transport and engineering but now self-publishes his writings.  This is the first children's title.  Written in verse and set in historic Vaucluse House, it tells of the antics of two kittens, Mario and Tilly.  There is no plot as such, more a description of all the mischief the pair gets up to and the ending leaves the reader hanging.  The verse text occasionally sounds forced to make words rhyme or to maintain metre and some word choice is unusual.
The brightly coloured illustrations combine digital artwork with graphite and add extra detail to the words, often with a sense of humour, but very little of Vaucluse House is shown, apart from a couple of external views.
reviewed by Lynne Babbage