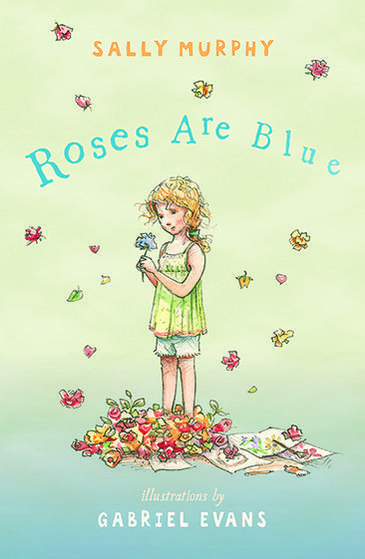 MURPHY, Sally (text) Gabriel Evans (illus.) Roses are Blue Walker, 2014 102pp $16.95 pbk ISBN 9781922244376 SCIS 1662578
Amber Rose longs for the mother she had before the car accident.  She remembers her stories and songs, her lovely garden and her beautiful pictures, how she would pick her up from school in her gardening clothes.  Now her mother is confined to a wheelchair, and cannot feed herself, or sing, or paint.  Amber still loves her, but she is ashamed of how her mother looks, and that she doesn't speak properly and, most of the time, doesn't speak at all.  When Amber's teacher announces that the class will have a High Tea for Mother's Day, to which relatives are invited, Amber is worried that the other children will make fun of her disabled mother.
Murphy's text, set out as poetry, is simple and heartfelt.  Evans's pencil illustrations are delicate, setting the scene for a small girl to express her worries, and a mother and her carer to retain their dignity in a difficult situation.
reviewed by Stella Lees