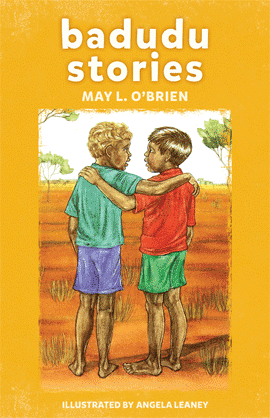 O'BRIEN, May L. (text) Angela Leaney (illus.) Badudu Stories Fremantle Press, 2014 (2nd ed) 78pp $12.99 pbk ISBN 9781922089823 SCIS 1651561
These four delightful school stories come from experiences among Aboriginal children of the Wongutha (Wongi) people of the Mt Margaret Community on the Eastern Goldfields of Western Australia near Leonora north of Kalgoorlie.  Each of the four stories illustrates the difficulties the indigenous children found in learning English, becoming confused by everyday English expressions and practices.  Landy becomes a hero for his school football team playing against the Laverton School but is confused when someone from the crowd calls him a 'smarty pants'.  Clever young Buruwan does not understand to say 'Thank you' when given a prize for her classwork.  Wanu and Miyam respond with the wrong 'jack' when asked to help Mr Jackson repairing his car.  Bindabinda can't understand why she is told she is 'too big for her boots'.  The title of the collection 'Badudu' stories means 'not what it seems'.
The author was a Wongi child, a pupil herself at the Mt Margaret Mission school.  She became a primary school teacher and was later Superintendent of Aboriginal Education in Western Australia.  These stories, first published in 1994, are drawn from her own experience as pupil and teacher, and include in the text the Wongi words spoken by the children with each other with English translations.  The list of words with their meanings are given in an appendix with a guide to pronunciation and there are notes on the author, the nature of the stories and the Mt Margaret Mission with maps.  The stories are attractively illustrated with pen-and-ink wash drawings.  These excellent cross-cultural stories are provided with teachers' notes and would be great for young readers 7 to 10 and older.
reviewed by John D Adams