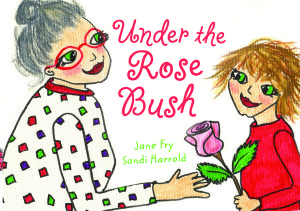 FRY, Jane (text) Sandi Harrold (illus.) Under the Rose Bush Green Olive Press, 2013 unpaged $22.00 pbk ISBN 9780987599803
Zoe and her Grandmother have a wonderful relationship, sharing games, stories and enjoying each other's company in Granny's wonderful rose garden.  One day, Granny's keys refused to be found, and this began to happen over and over again, with Granny becoming more and more forgetful, agitated and distressed.  Eventually it becomes apparent that Granny needs more help, company and understanding than even the most devoted family can provide, and eventually a nursing home has to be found where she gradually fades away.
This is a thoughtful, compassionate story that will help young children deal with the emotions unleashed by the sad situation of a loved one with dementia, and how they can be cared for with love and acceptance and remembered with tenderness.  Sandi Harrold's vibrant naive-style illustrations enliven the pages.
reviewed by Joy Steward