Rove McManus, Rocky to the Rescue (Rocky Lobstar #1), Scholastic Australia, October 2019, 192 pp., RRP $14.99 (pbk), ISBN 9781760664930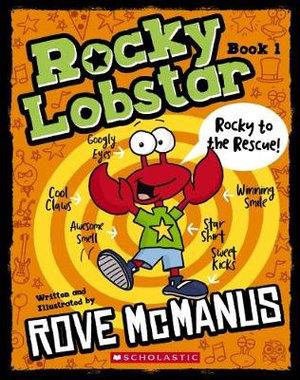 With Rocky Lobstar, Rove McManus joins the ranks of Australian comedians penning zany chapter books for younger readers. The format will be familiar to anyone who has read any of the series featuring goggle-eyed dogs, sharks, pigeons, etcetera. You know the books. The ones that are lightish on words but full of snot and fart jokes — extended picture books in a novel's packaging that can be churned through in one read-aloud sitting or can give newly independent readers the satisfaction of working through chapters.
The book's namesake and protagonist is the star performer in a carnival sideshow that features a requisite cast of kooky characters. The show is in trouble — audiences are just not coming — so Rocky and his best friend Goober, the sword swallowing goat, hatch a bunch of schemes to save it. There are themes of rivalry, jealousy, friendship and forgiveness — but the book is at its best in moments of slapstick and absurdity. The human cannonball who explodes his own head when he gets angry was a big hit with my young boys.
Rocky Lobstar is not as fast paced or edgy as its quirky-animal-tale counterparts, so it wouldn't be my first choice of humorous short chapter books to try to hook a reluctant reader. That said, I would probably recommend it to kids who already like the genre and need the familiarity and dependability to keep them reading.
Reviewed by Liz Patterson