Stephanie Owen Reeder (text) and Briony Stewart (illustrator), Trouble in the Surf, National Library of Australia, October 2019, 32 pp., RRP $24.99 (hbk), ISBN 9780642279460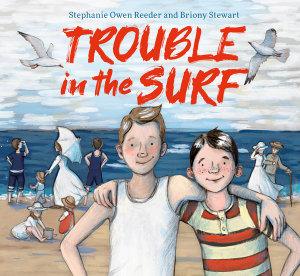 A fascinating step back in time to Australia's Sydney Town where we learn so much through the story of two typical, fun loving nine-year-old cousins Charlie Smith and Rupert Swallow. On a hot summer's day, the cousins are keen to dive into one of our nation's iconic locations, Bondi Beach.
The boys get more than expected, when a strong rip carries them beyond the breakers. How will they make their way back to safety? And how was this dramatic event poignant in nearly changing Australia's pioneering aviation history?
This remarkable true story has us discover how one dramatic incident in time has borne the saving of many lives in the past, present, and continuing into the future.
Author Stephanie Owen Reeder and Illustrator Briony Stewart have brought together their talents seamlessly in this book. The illustrations perfectly depict the time period of the early 1900's whilst portraying such true to life emotion and drama throughout the story.
Sharing this book with children (as I did with mine) brings so much learning, appreciation and discussion about surf safety, surf lifesaving clubs, and a great Australian in our nation's history (I won't give away who that is!)
A story that heralds themes of friendship, community and heroic acts of bravery, whilst beautifully including important historical information and Australian icons.
A great book for educators, parents/ carers to share – a must have in school and community libraries!
Highly Recommended for Ages 5+
Reviewed by Sonia Bestulic