Alex Miles, Making Magic (Girl Geeks #4), Penguin Books, October 2019, 176 pp., RRP $14.99 (pbk), ISBN 9780143795087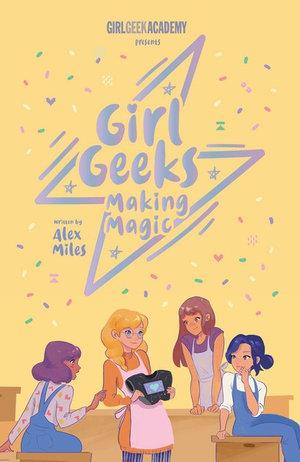 Presented by the Girl Geek Academy, this wonderful story for the tween-agers out there; is book 4 of the series and continues to have us share the journey of four tech loving friends, Hamsa, Eve, Niki and Maggie.
In this book, we delve into Maggie's world. She is considered to be a quiet and reserved type, yet full of creative problem solving and bright ideas. The friends are all super excited to be part of the upcoming school play; it's an opportunity for them all to do what they love; whether that be on stage or behind the scenes.
Staying out of the spotlight is definitely where Maggie feels more comfortable; but will she manage to succeed? The friends find themselves needing to step out of their comfort zones in various occasions, whether they like it or not; but will they manage to make the show a success without compromising their friendship along the way?
This story nicely weaves in a number of themes and topics; ranging from looking after the planet, sustainability, recycling and robotics to managing friendship troubles and resolving conflict. Amongst it the story reinforces the mantra of trusting yourself while exploring the dynamics of working as a team, respecting each other's differences as strengths, and showing belief in your friends when they need it most. Above all, sharing in the journey with these four friends inspires up to step into the zone of bravery and courage for a friend's sake, and essentially our own personal growth.
For the girls out there, who may be a little more on the reserved side, they will find the character of Maggie super relatable; and enjoy her victory in finding her voice and being heard and counted.
As per the style of the series, it includes social media formatted sections. This story includes video app calls within the formatting and makes responsible references to screen time habits and permissions.
The final section of the book allows for the reader to engage in a tech like activity; and this time, the instructions for how to make your own robot are included. A great brain engaging, fun activity to partake in!
Finally, a message I really valued was that amongst the technology and the robotics human emotions and human connection always comes out trumps!
Highly Recommended: for girls aged 9-12
Reviewed by Sonia Bestulic