Ann Sei Lin, Rebel Skies, Walker Books Australia, May 2022, 352 pp., RRP $18.99 (pbk), ISBN 9781406399592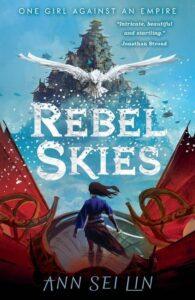 Rebel Skies is a beautifully written page turner whose themes draw from author Ann Sei Lin's experience with Asian cultures. Sei Lin spent a number of years in Japan and this immersion in Japanese culture is evident throughout the novel in her choice of language and the description of characters and settings.
Rebel Skies is the first book in a fantasy trilogy. There is an immediate hook as readers are dragged into a world completely unlike our own. This new world has floating cities, flying ships and ferocious paper beasts. Protagonist Kurara has only ever known the life of a servant on board the Midori but knows that there is much more to her simple life. Kurara cannot remember who she was or even where she was before coming to Midori. It is clear that her best friend and confidant, Haru, knows more than he is letting on, but he will not be persuaded to answer her questions.
Kurara has a special talent. She can make paper come to life and manipulate it into any shape she wishes; a delicate lotus flower, a bounding rabbit or perhaps a shield as solid as steel.  She is what is known as a Crafter, someone who is both treasured and feared across the empire. Unbeknownst to her yet, Kurara is also the keeper of long forgotten secrets. When a shikigami (a wild paper spirit) attacks the Midori, bringing the sky city to the ground, Kurara joins a sky ship and its crew to learn more about crafting and to hunt down the shikigami.
The creative storyline and pacy plot make for an exciting read. As well, the intertwined themes of slavery, freedom and empire add new perspectives. This imaginative novel is recommended for readers over the age of thirteen who enjoy a good adventure story and love exploring new worlds and concepts.
Reviewed by India Boon