Paul Collins, James Gong: The Chinese Dragon, Hybrid Publishers, February 2022, 168 pp., RRP $16.99 (pbk), ISBN 9781925736793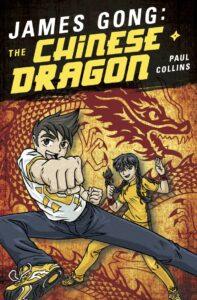 James Gong is the young star of the recent movie Ham Solo: Revenge of the Fist and he is quite pleased with himself and his fame. But in James's family, there are no special privileges for himself and his sister Caitlin who are expected to pitch in with jobs around the house, shopping and to keep a steady focus on their schoolwork.
This would all go along smoothly except James is rather obsessed with virtual reality and martial arts—in combination—and even more obsessed with Ming Lee, the Chinese Dragon who is the undisputed queen of virtual martial arts. When James is constantly bullied by Tosser and his gang, Ming decides that she and James should combine their skills to finally put a stop to Tosser's threats and thuggery. However, when gangsters become involved in a highly risky virtual martial arts tournament where Tosser will fight against Ming, both James and Ming will need all their skills and brainwork, as well as Caitlin's cleverness, to survive.
James Gong — The Chinese Dragon is a real page-turner with fast-paced unexpected twists and turns in every chapter. The non-stop action of martial arts as the basis for the story is informed by author Paul Collins' highly successful career in this sport over many years and across numerous platforms—taekwondo, ju jitsu and kickboxing as well as time in the army as a commando. And then, if this wasn't enough, the skill and mental aptitude required for martial arts is lifted to another level as it becomes the means for the engagement of the characters in virtual reality.
Narrator, James Gong is a likeable lad, not particularly worldly despite his movie career. Like many young lads, he is full of early-teen bravado, uncertainty, and frustration at the boring aspects of everyday life. But James' passion for virtual martial arts and his friendship with Ming bring a large dose of unpredictability and adventure to his life.
James Gong — The Chinese Dragon is so cleverly written by author Paul Collins who lets James tell us his story in a fresh lively manner with a marvellous dose of self-deprecating humour. And there is more than just adventure here as the author has woven issues of bullying, family responsibility, friendship and trust in the context of sport, gaming, technology, and performance within these pages. The reading of this book feels like spending time with a young friend, and I've enjoyed the company.
Reviewed by Jennifer Mors