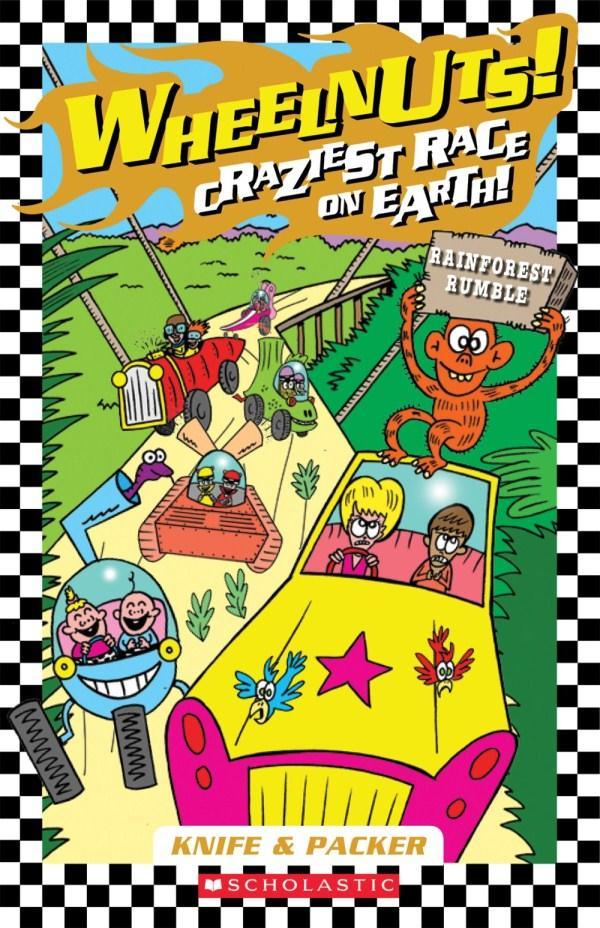 Knife & Packer, Rainforest Rumble (Wheelnuts! #5),  Scholastic Australia, 1 Sept 2015, 96pp., $12.99 (pbk), ISBN 9781743627266
Tearing down the final freeway in this mad race are the six crazy cars that have endured a multitude of life-threatening, car reeling, and exhilarating challenges over five thrilling courses set by eccentric multibillionaire, Warren 'Wheelie' Wheelnuts. In the fifth book, Rainforest Rumble, the teams experience wild adventures and obstacles that both independent and reluctant readers will lap up with eyes ablazing!
Keeping with the consistency of the previous titles, the somewhat predictable plotline makes for a comprehensible, satisfying read, but the occasional forks in the bumpy road certainly create a bit of a buzz. The story is fast-paced and includes plenty of back-handed and comical humour, perfectly suiting its outrageous settings and characters with their amusing, pranking plays.
As you would expect in a 'rainforest' scene, this race is no easy feat with nasty creepy crawlies, flea-ridden, stinky monkeys, giant anacondas and perilously raging water rapids to contend with, not to mention the sabotaging, robotic antics of jealous brother to Wheelie – Wipeout! But in a race with no rules and the promotion of technologically advanced, cheating gadgets, there is no stopping the racers from achieving Gold Stars, overcoming hurdles and crossing the finish line to grab a trophy. Even in this highly competitive race full of cruel tactics, elements of teamwork and sportsmanship can certainly be spotted.
Funny, absurd, bright and colourful, energetic and action-packed! Readers from age seven are sure to get a kick out of Rainforest Rumble, and all the titles in the Wheelnuts! series.
Reviewed by Romi Sharp