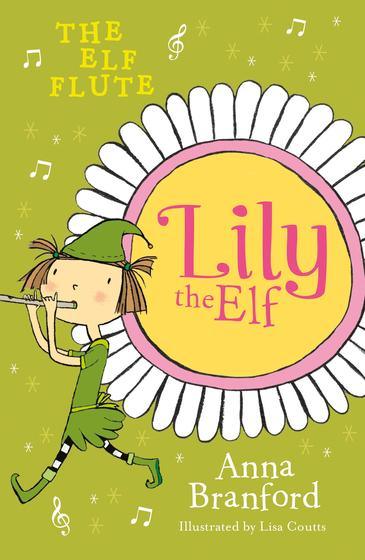 Anna Branford (text),  Lisa Coutts (illus.), The Elf Flute (Lily the Elf), Walker Books,  1 August 2015, 48pp., $7.95 (pbk),  ISBN 9781925081077
Anna Branford (text),  Lisa Coutts (illus.), The Wishing Seed (Lily the Elf), Walker Books,  1 August 2015, 48pp., $7.95 (pbk),  ISBN 9781925081060
'Lily lives with her dad in a tiny elf house, hidden under a bridge in a busy city.'
So begins this tale of a friendly, helpful and plucky elf. In The Elf Flute, Lily is very excited to receive a shiny, silver flute in the mail from Aunt Daisy. With the Grand Elf Concert coming up, she knows it will be perfect for her performance, much better then the silly old poem she had planned to recite, but playing the flute is much harder than she thought and the sounds she makes aren't very tuneful. The concert is tomorrow and she is determined to find a way to make her performance brilliant.
In The Wishing Seed, she manages to grab hold of a dandelion seed as it whooshes past in the air so she can wish for a brand new crown. With a little bit of help from Dad and Granny, her wish just might come true.
These beautifully illustrated books, perfectly match the warm, can-do tales and will perfectly suit younger readers who are leaping into reading their first chapter books.
Reviewed by Deborah Abela