Hilary Rogers and Joshie Lefers (text), & Pete Petrovic (illustrator) Punky Pineapple (The Frooties #3), Scholastic Australia, February 2019, 128 pp., RRP $12.99 (pbk), ISBN 9781742765983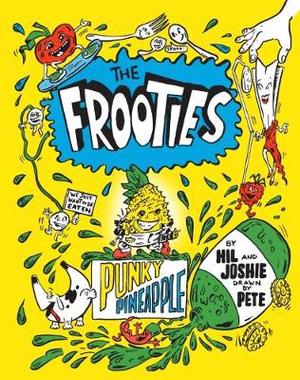 It's a whole bunch of crazy in the fruit bowl! When Missy Starfruit goes missing, Punky Pineapple is on the case! But is he a good detective or just good on pizza?
This third installment in the quirky series from creative duo Hilary Rogers and Joshie Lefers is brimming with crazy fruit-flavoured fun. In each wacky tale the fruits come to life when we're not looking and dream of their ultimate goal in life: to be eaten up!
Book#1 Frooties: Bad Apple followed the insane adventures of a naughty apple who, after playing tricks on all the other fruit and venturing across the dangerous kitchen terrain with his best pal Punky Pineapple, learns that it's always cool to do the right thing. In book #2 Frooties: Crazy Kiwi we met Crazy Kiwi, who embarked on a wild journey to find himself, accompanied by his loyal fruit friends, Strawbs the strawberry, Nana the banana and Baby Grape. Book three follows the same hero's journey format with super-cool bodyguard, Punky Pineapple, recruiting Little Chilli, the Cherry Twins, and Banana Dog as his 'Frootie Detectives' before going in search of Missy Starfruit.
When the adored Missy Starfruit goes missing after her film debut (Starfruit Wars Episode IV: The Last Starfruit) Punky Pineapple feels like a total failure and even considers changing his name to Flunky Pineapple. But instead of giving up, Punky and his friends decide to brave the Electric Waterfall, the dreaded Bottom Drawer, and the death run slopes of the Freezy Freezer.
Pete Petrovic's illustrations really bring these comic fruit characters to life. The hilarious Sergeant Fig, Officer Apricot and the amazing depiction of the savage vacuum cleaner had my young reader in stitches and looking back through the pages long after the story had finished.
As with the earlier books, the two-colour design brings a fresh, eye-catching simplicity to the pages. The short bursts of text, diagrams and expressive illustrations make these books an ideal choice for reluctant readers. Whilst the fruit puns, language play, and silly jokes are sure to entertain a great many young readers.
The importance of helping our friends, doing the right thing, and being yourself is central to each fruity adventure, along with the subtle reminder for readers to grant the Frooties' their hearts' desire and eat a wider variety of fresh fruit.
All three titles would make a great first chapter book, suitable for fledgling independent and reluctant, primary aged readers. The art is zany, the stories utterly ridiculous yet heart-warming, and the final combination is guaranteed to give you a giggle.
Reviewed by Lisa Hoad