Hilary Rogers and Joshie Lefers (text), and Pete Petrovic (illustrator), Bad Apple (The Frooties, #1), Scholastic Australia, September 2018, 18 pp., RRP $12.99 (pbk), ISBN 9781742765952
Hilary Rogers and Joshie Lefers (text), and Pete Petrovic (illustrator), Crazy Kiwi (The Frooties, #2), Scholastic Australia, September 2018, 18 pp., RRP $12.99 (pbk), ISBN 978174276997
It's a whole bunch of crazy in the fruit bowl! What's your favourite fruit? Bet it's not kiwi fruit. No wonder Kiwi goes bananas!
This new quirky series from creative duo Hilary Rogers and Joshie Lefers is jam packed with crazy, fruit-flavoured, not to mention funny, mayhem.
Each book focuses on the adventures of a particular fruit. Book#1 Bad Apple follows the insane adventures of a naughty apple who, after playing tricks on all the other fruit and venturing across the dangerous kitchen terrain with his best pal Punky Pineapple, learns that it's always cool to do the right thing. In book #2 we join Crazy Kiwi who embarks on a wild journey to find himself, accompanied by his loyal fruit friends, Strawbs the strawberry, Nana the banana and Baby Grape.
In each whacky tale the fruits come to life when we're not looking and dream of their ultimate goal in life: to be eaten up! The fruity characters venture away from their fruit bowl home,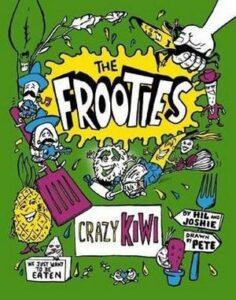 encountering various challenges and dangers along the way. They meet terrifying creepers, monster muffins, and survive the Flames of Doom (stove top), The Steel Crater (sink), and the mighty Mount Fridginator (obvious what that is), along the way.
Pete Petrovic's illustrations really bring the hilarious fruit characters to life and the two-colour design bring an eye-catching simplicity to the pages. With a mix of simple text, picture, diagram and comic book dialogue these books would be an ideal choice for reluctant readers. Whilst the fruit puns, language play, and silly jokes are sure to entertain a great many young readers.
The importance of helping our friends, doing the right thing, and being yourself is central to each fruity adventure, along with the continuous encouragement for young readers not to waste food and to consider eating a wide variety of fresh fruit.
The art is zany, the stories utterly ridiculous yet heart-warming, and the final combination is guaranteed to give you a giggle. With the third book due out early next year, these titles are suitable for fledgling independent and reluctant primary readers or could be used as part of a shared class focus on eating well.
Reviewed by Lisa Hoad