Karen Parsons, How High the Moon, Penguin Random House, March 19 2019, 256 pp., RRP $14.99 (pbk), ISBN 9780241346891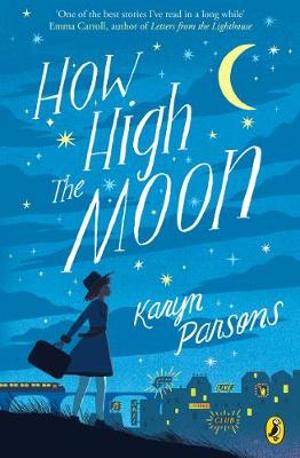 Ella and her cousins, Myrna and Henry, live with their grandparents in South Carolina, It's 1943, and the South is still segregated, with Ella and her family having to abide by the rules for African Americans which differ vastly from those for white people. There's been a recent lynching, and Myrna's friend George has been arrested without clear evidence for the murder of two white girls.
Amidst the turmoil, Ella pines for her mother who lives in Boston. When, finally, Ella is called to the city, she leaves Henry and the others behind with the hope that she will find out the truth behind her unknown father. Life in Boston, although not under the rules of the South, is strange. Ella's mother works all day and leaves Ella in the flat by herself where she can only watch the unfamiliar world from her high window. When her mother is offered a job in New York as an entertainer, Ella returns to South Carolina without discovering who her father is but armed with knowledge about her mother's early life. The search for her father reveals other important information and, while Ella never meets her father, her family life is enriched by an understanding of the journey her mother has been on.
This is a warm, family-orientated drama set on a background of vicious racial laws. George's eventual execution – his story based on the true story of George Stinney Jr., a 14 year old boy who was exonerated in 2014 of the murder of two white girls – is in sharp contrast to the loving environment in which Ella lives. This book would create great discussion points about activism, resilience and understanding. Highly recommended.
Reviewed by Pam Harvey