Rebecca Fung (text) and Aimee Smith (narrator), Princess Hayley's Comet, Christmas Press, August 2021, ISBN 9781667045900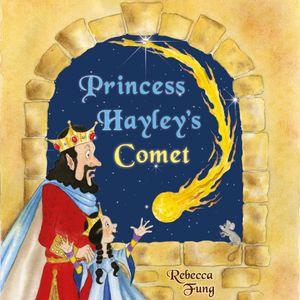 Based on the chapter book of the same name, published by Christmas Press, 2018.
The audiobook of Princess Hayley's Comet by Rebecca Fung is narrated in the lively and enthusiastic voice of Aimee Smith. The story is about Princess Hayley whose father, the King, adores her and goes to great lengths to indulge her requests for expensive and unusual gifts. Hayley loves astronomy and when she hears that her favourite celestial body – the beautiful, sparkly, glittery comet – will soon be passing the Earth, she asks for a comet for her birthday. But, when Hayley hears the King's advisers arguing about how to catch the comet, she decides that she will need to take matters into her own hands. Together with friends, Ned and Cara, and some helpful Palace staff, Hayley builds a comet catcher created from a giant fishing net and enough ladders knotted together (with expert fishing knots, mind you) to reach into space. But, despite Hayley's indomitable optimism, catching the comet doesn't turn out exactly as she expected.
This is a story of fantastical imaginings with plenty of gentle humour and suspenseful adventure too. There could be a cautionary message that enthusiasm needs to be tempered by practicalities, but mostly I feel that the story is meant to entertain. Presentation of the audiobook is certainly lively with upbeat music to introduce each chapter and narrator, Aimee Smith's enthusiastic and playful tone which brings out the story's humour and fun. Smith also develops the characters well with a unique voice for each one.
I recommend the audiobook of Princess Hayley's Comet for entertaining the kids on road trips or for just experiencing a book as a listening activity. Being a short text, listening to the audiobook whilst reading along with the print text, would help reading confidence. The content and writing style are suited to 5 to 7 year olds and will resonate with kids who are fascinated with outer space.
Reviewed by Barbara Swartz