Morris Gleitzman, Always, Penguin Random House Australia, August 2021, 320 pp., RRP $19.99 (pbk), ISBN 9780143793243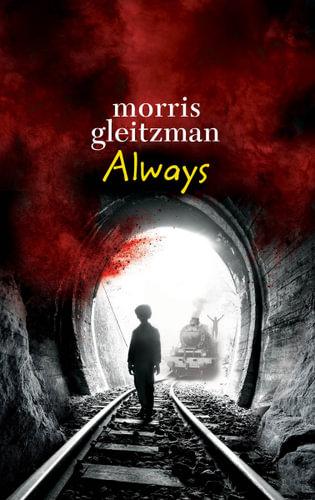 Morris Gleitzman's much anticipated Always is a satisfying conclusion to the Australian favourite Once series.
Predecessor Maybe saw protagonist Felix aged 14, with high hopes for his new life thriving in Australia. Quite the dramatic leap, in Always, Felix is now 87 living a comfortable life as a retired surgeon with his four-legged companion, Jumble, for company. Just when things have se​​ttled down for Felix, 10 year old Wassim shows up on his doorstep, having flown across the world to meet his hero. Wassim desperately pleads for Felix's assistance in securing the latest threat that he and the rest of Eastern Europe faces.
Battling loneliness himself, Felix agrees to accompany Wassim back to Europe, in an attempt to quash the 'Iron Weasels', a fascist gang with modernised Nazi ideals. Ambitious Wassim is also on the mission to find out what really happened to his parents, as well as discover a train-load of treasure, abandoned and forgotten during the war. Will Felix and Wassim stop the 'Weasels' before they find the treasure themselves, or worse, rise to power?
Just like the previous books in this wondrous series, Always depicts the infamous parts of history in a realistic, yet hopeful manner, appealing to the target middle-grade audience. This is achieved through a fast-paced plot packed with adventure and epic heroism, which can come across as far-fetched at times. However, Gleiztman expertly balances the novel, and doesn't sugar-coat the extent of racism and prejudice that needs to be addressed, because unfortunately, it still continues today.
The setting for Always is deliberately unclear, in an effort to recognise that racism is universal and the events that take place in the book are experienced globally. The portrayal of hatred is done in such a way that young readers can draw parallels to what they've been exposed to in their own lives, such as the use of derogatory slurs.
Felix and Wassim's unlikely friendship is a welcome addition to the novel, sure to inspire and bring smiles to the faces of all readers. This novel beautifully completes Felix's epic journey, and while readers will be sad to see the end of the series, it's one that'll Always stick with us.
Reviewed by Olivia Sammut