Alexa Moses, Michaela Mason's Big List of Camp Worries, Scholastic, August 2021, 192 pp., RRP $15.99 (pbk), ISBN 9781743838761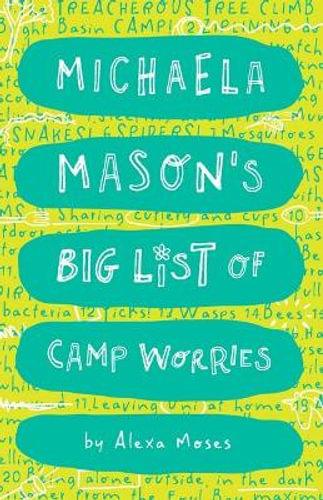 In this sequel to Michaela Mason's Big List of 23 22 Worries, we find its anxious, smart, plucky hero winning some/losing some in her efforts to balance being true to herself, dealing with her many anxieties, and not being a total social failure at school.
Years 5 and 6 are going on camp, which means Michaela will be well out of her comfort zone and has a complete list of worries just for the trip. On the plus side, her best friend, Soo-Min, is going. But once they arrive it turns out that the two year groups will be separated for most activities. This thrusts Michaela back with the Pretty Posse girls of Year 5, who continue to mock, play tricks, and generally make her life a misery.
There's a lot going on here, with this second book concentrating on school friendships, although Michaela sorely misses her mother when things get tough. Settling into camp life, suffering through kayaking incidents, the horrors of "The Treacherous Tree Climb", being taunted by her roommates – things get very low. Even her loved teacher, Ms Ng, loses patience with Michaela. Resilience is the order of the day.
Michaela's anxiety is described realistically, including physical symptoms at times, as are the strategies which can help, some internal and some through the efforts of friends or teachers. As well as dealing with the frenemies, Michaela must learn be honest with Soo-Min. Soo-Min, outgoing and sporty, is relishing the whole camp experience. Michaela has pretended to be just as enthusiastic, an unsustainable illusion which causes confusion, and undervalues her friend.
Michaela remains a reliable and entertaining narrator, who learns, and develops her coping strategies with the help of her growing friends. Middle and upper primary readers will enjoy the incident packed, pacey plot, and recognise not only the characters, but also the emotional journeys of Michaela and her friends.
Reviewed by Marita Thomson