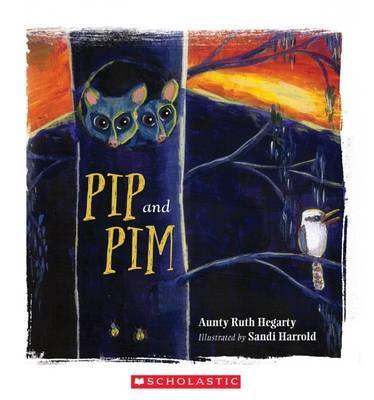 Aunty Ruth Hegarty (text) Sandi Harrold (illus) Pip and Pim  Scholastic Australia,  1 Oct 2015,  24pp.,  $14.99 (pbk),  ISBN 9781760151973
Written by Aboriginal elder Aunty Ruth Hegarty, this is a gentle tale about Pip and Pim – a pair of ringtail possums – and their first night exploring the forest floor. There is a nice symmetry to this story beginning and closing with the call of the Kookaburra. Other Australian wildlife feature as Pip and Pim ignore their parent's pleas and push the boundaries of exploration. The pair come across echidnas, bandicoots and finally, herons – where Father Heron tells them in no uncertain terms to get lost!
The story is enhanced by child-like colourful painted illustrations.
This is the second in a new series of indigenous titles, Aunty Ruth's Stories, by the award-winning author. It would make a good jumping off point for pre-schoolers or early primary children learning about Australian wildlife. There might also be some class discussion about the moral of the story – listening to your elders – and possibly a chat about 'stranger danger'.
There is a final note from the author, now in her 80s, about her desire to pass on stories to future generations. It strikes me that this could initiate a little assignment for early primary students where they might 'interview' a grandparent or older relative to discover a story from the past that they may not have heard before.
Reviewed by Heather Gallagher