Kathryn England (text) and David Allan (illustrator), Petal and the Really Hard Riddle, Christmas Press, August 2019, 70 pp., RRP $13.99 (pbk), ISBN 9780648194545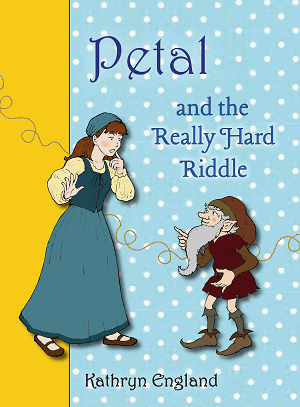 Petal's father is very proud of her. Everywhere he goes he boasts about his daughter's miraculous skills: her green thumb and culinary abilities, to her horse ridding prowess and her juggling feats. The towns folk are pretty sick of hearing about amazing Petal and Petal is worried that her father's lies will lead to no good. One day when his boasting goes too far Petal finds herself in the King's palace being told to spin straw into gold 'or else'.
Based on the Rumpeltstiltskin tale, England provides a contemporary take on this ancient story. Pitched at a 5-9 year old readership the use of repetition, language play and humour may also make it appealing to reluctant readers.
Unlike the universal characters of the traditional fairytale, Petal has a personality. She is a straight talking no nonsense girl who evolves and grows through experience. With the help of Riddlestiltskin, Rumpel's twin brother, Petal is able to achieve the impossible but in return she must give the correct answer to the riddle he poses 'or else'.
Author of picture books, chapter books and stories for older children England has reimagined this tale with humour and skill.
Highly recommended.
Reviewed by Mem Capp