Ulrika Kestere, Otto Goes North, Gecko Press, August 2019, 32 pp., RRP $16.99 (pbk), ISBN 9781776572427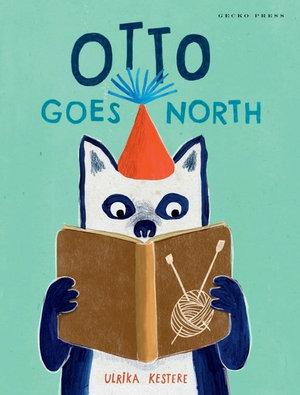 Way up in the mountains of Scandinavia friends Lisa, a lynx and Nils, a bear live in their little blueberry-blue house with a grass roof. One day their friend Otto comes to visit. He has travelled from far away and it has taken him a long time on his bike to reach his friends. Finally Otto arrives and is keen to make a painting of the famous northern lights to take back home but that evening when he tries to paint he finds he is too cold; he doesn't have the right kind of fur for these freezing conditions. This sets his friends on a journey of their own, learning how to knit a jumper, starting with the gathering and carding of the wool to the spinning and finally the making of the garment. But will the new jumper keep Otto warm enough to make his painting and have fun with his friends before going back home?
In this beautifully illustrated picture book, author and illustrator Ulrika Kestere has created a charming tale about friendship, travel and knitting.
Highly recommended 4 years +
Reviewed by Mem Capp