Hayley Lawrence, The Other Side of Tomorrow, Scholastic Australia, February 2022, 295 pp., RRP $19.99 (pbk), ISBN 9781760976453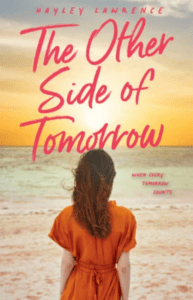 The Other Side of Tomorrow deserves to be savoured slowly. It asks a lot of big questions. It might also require readers to walk away every five chapters to dry their eyes and look at some cute cat videos. What I am saying is there is a lot of sadness here. Authentic grief that takes time to process and accept. As all grief should.
Abby is 15. Her parents have just gone through a sea-change after the loss of her father's father. They are all slowly learning to enjoy their life in a coastal town running an organic restaurant sourced with local produce. Abby works there part-time and due to her fear, stays out of the ocean while her newly found friends, Lexi, Saxon and Jesse thrive in the salt, the waves and the freedom. Lawrence jumps into her narrative with a prologue about Willa, and it takes a while for readers to understand the significance of her character. We cry at the thought of Pa's passing, then we sob when Willa dies but there's still more loss before the end of the book.
Yes, it does seem like this might be a book to avoid. However, the author imbues the story with many discussions about death and dying and they bring hope and gratitude and acknowledgement of the natural cycles of life. It's hard to remain completely sad. And no one will walk away unaffected. There are so emotions, so many feels. It's a perfect book for one of those BookTok hashtags #booksthatmademecry. But I bet it never made it onto any of them. Hopefully this shortlisting means it will find its way into libraries to provide it for teens.
The Other Side of Tomorrow invites readers into Abby's journey and asks them to walk with her. It's a worthy addition to the genre of books about young people navigating illness. Strongly recommended for readers who have already found and been immersed in The Fault in Our Stars, Five Feet Apart, and A J Bett's Zac and Mia.
Reviewed by Trish Buckley