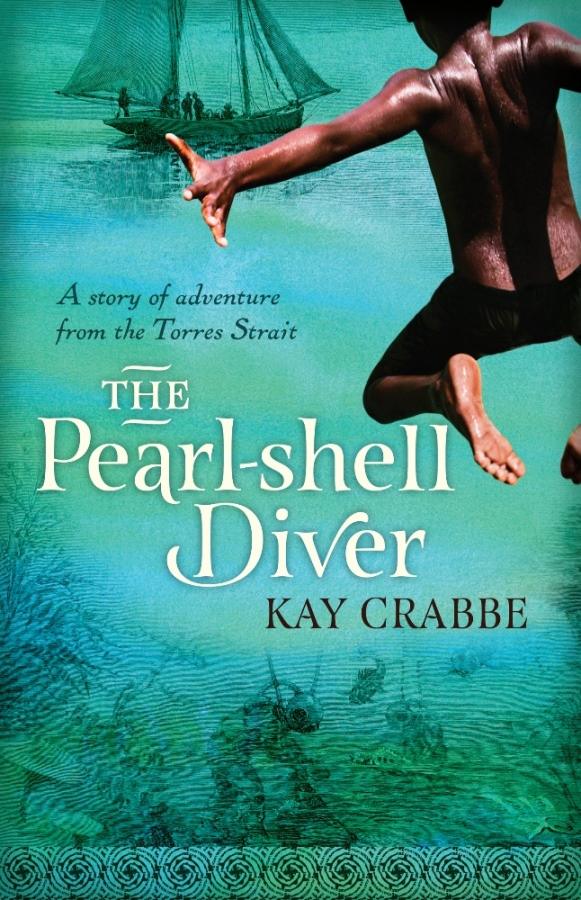 Kay Crabbe (text), The Pearl-shell Diver: a story of adventure from the Torres Strait, Allen & Unwin,  April 2016,  208pp.,  $16.99 (pbk),  ISBN: 9781760290474
The Pearl-shell Diver is an historical novel for children aged 10-13, set in the Torres Strait Islands in 1898 and featuring main character Sario, a 13 year old boy.  Sario lives with his clan and spends his days diving for seafood and shells to trade or be used by his clan, listening to stories and eating delicious food. It seems an idyllic life but there are dangers. Two of his cousins, who left with a pearling lugger hoping to earn lots of money to support their clan. have not returned, and a trader is now keen to 'hire' Sario.  Sario has mixed feelings about his future. He does not trust the traders who want to 'employ' him and he wants to stay with his clan but at the same time he longs to wear the white man's breathing helmet so he can walk on the sea floor.
Crabbe describes the life of the Torres Strait Islanders vividly; the food they grow, catch and prepare; how they make canoes, jewellery and mats and the dangers of diving. Sario's mother has damaged lungs from diving, his sister's hearing has been affected and when Sario finally gets his wish to dive in a breathing helmet he is nearly killed.  Crabbe's research is thorough and results in a very educational novel. She includes a timeline, a glossary of the expressions and a map. I learnt a great deal while reading The Pearl-shell Diver.  
Teacher's Notes can be found on the Allen & Unwin website.
Reviewed by Katy Gerner