Reading Time is pleased to be part of the Frontlines Aus & NZ Blog Tour, hosted by Hardie Grant Egmont. Yesterday Michael Grant was over at Divabooknerds, and today he is here, answering our questions.
Best selling author Michael Grant is in Australia and New Zealand to promote Front Lines, the first book in his blockbuster new series, Soldier Girl. Welcome to Australia, Michael and welcome to Reading Time.
The Gone series is so popular with readers, was it hard to bring that story to a close? How do you know when it's the right time to finish?
With GONE I had pitched it from the start as six books.  This is not because I had some great plan for the series as a whole – I had no plan.  It just "felt" like about six books' worth of story.  So I always knew it would end at six books.  It was, I have to admit, an emotional experience wrapping the series.  My characters are like my employees in a family-run business – I like them, I care about them, especially the ones who've been with the "company" right to the end.  I was sorry to say good-bye to them, but it was time.
Describe what's it like writing with someone you also live with.
Well, there used to be a lot of yelling. Katherine (Applegate) and I aren't just frequent co-authors, we are a couple that's been together for 36 years, and parents to two kids.  So work gets swept into that whole maelstrom of things that Katherine and I have to find a way to agree on.  And we're both strong-willed types, so yep, there was some yelling.  Things are better since we decided to write our own things, but I miss having access to Katherine's skills which, as her Newbery Prize shows, are many.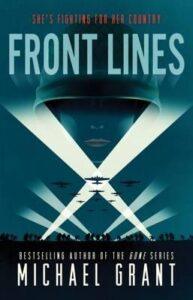 The Soldier Girl series, starting with Front Lines, is more factual and historical than your previous work. What led to that change in direction?
I cannot stand writing what other people are writing.  My instinctive approach is always to counter-program.  If I feel the majority going through door A, I am guaranteed to go for door B.
There were alt-history single titles out there, (like the wonderful Code Name Verity) but nothing like what I envisioned with FRONT LINES.  I wanted it to work as character study, as 'alternate history,' but also as real history.  And I was determined to keep the focus on regular soldiers, not generals.  I wanted to go a different direction with empowered female protagonists, relying less on fantasy or on purpose-built worlds where a girl with a bow and arrow can save the world.  I wanted to write something where the enemy is real and genuinely evil, and for genuine evil you can't really beat Nazis.
You travel all over the world talking to people about your books. What have you noticed about changes in reading cultures? Do different countries have different cultures? Or is there more of a change over time?
I don't have anywhere near the data I would need to form a useful opinion on that.  At some level I suppose I don't much care where the readers are because wherever we think they are, is actually based on a rear view mirror image of where the readers have been.  I can't drive using just the rear view mirror, I have my own goal, my own direction, and I just have to hope the readership likes where I'm going.
What would you like to say to the teachers and the librarians of Australia and New Zealand about children and reading in today's world?
Well, I have always loved librarians as the crazed fanatics of reading.  They're the shock troops. A librarian is a person who isn't happy until you have a book you like in your hands.  And then another.  And if that means the librarian stalking you, tackling you and sitting on your chest while you read, they're up for that, and thanks to all of them because we writers would be in sorry shape without them.
I will admit that I have a more guarded approach to teachers based entirely on the fact that I was (and still am, even at 61) the class smart-ass.  I always feel teachers sense that in me, like the way a street cop can spot a wrong 'un just on instinct.  The problem I have with teachers is this guilty sense that they know exactly what kind of a class clown, provocateur and assiduous under-miner of authority I've always been.  Basically I'm afraid they don't buy my bullshit.  Also, at any moment one of them might ask me to show my algebra homework, and since I didn't do it. . .  Yeah, they make me nervous.  I'm just going to go hide in the library because I also did not do my social studies homework.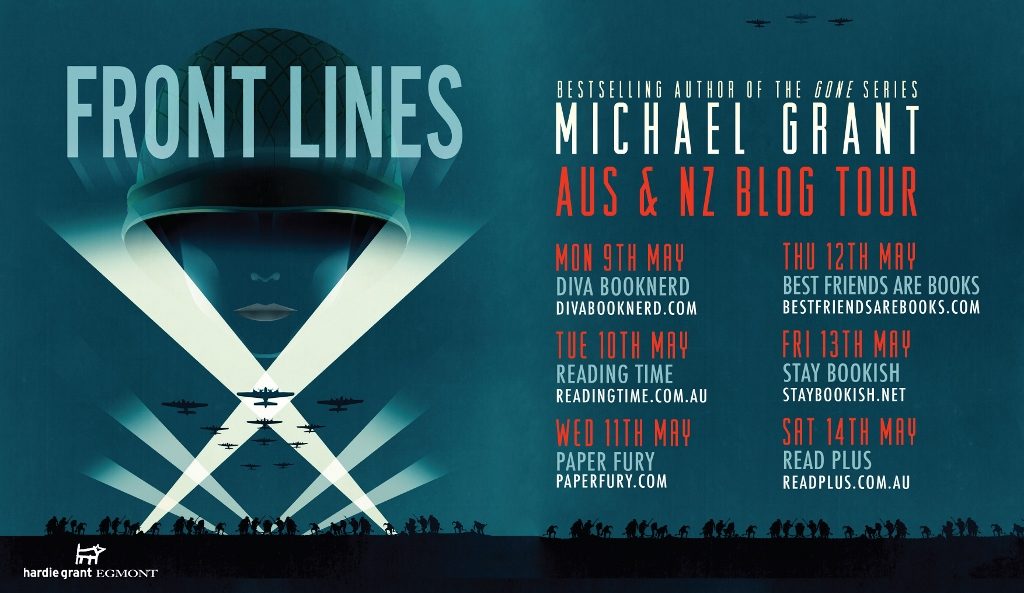 Thank you Michael for your time. Front Lines really is an exciting and authentic-to-the-time novel.
Head over to Paperfury tomorrow for the next leg of the blog tour.