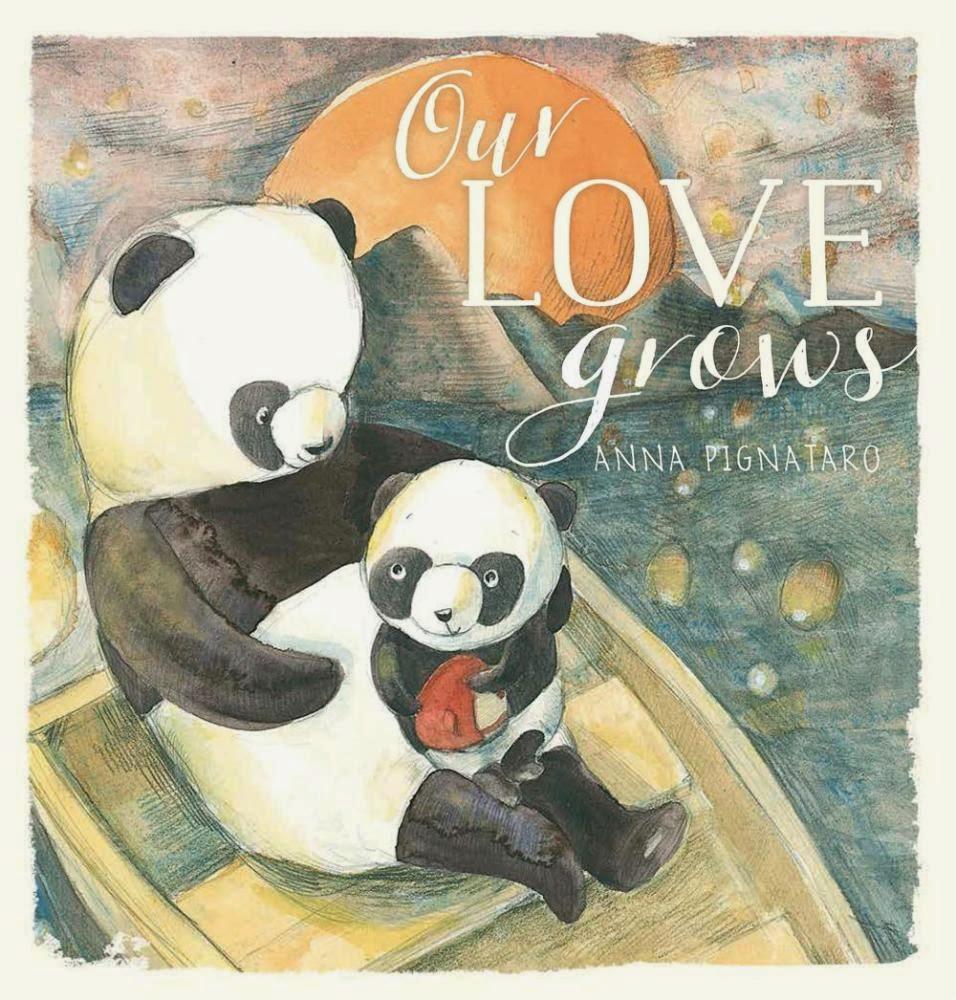 Anna Pignataro,  Our Love Grows,  Scholastic, 1 March 2015,  $16.99,  24pp.,  ISBN: 9781743626269
Our Love Grows is a picture book perfect to read aloud to young children. The story looks at growth, change and the bonds that exist between a mother and their child.
Like all children Pip is curious about the world and how things work. The story starts with Pip asking the question, 'Mama, when will I be big?'
Mama tells Pip about growing up, using examples that Pip can relate to and compare with such as, Pip's blanket and favourite toy 'birdy'. She tells Pip about the stars in the sky and the changing size of Pip's footprints in the snow.
Mama and Pip are Giant Pandas and the setting of the book is outdoors; the illustrations reveal a forest, lake and surrounding mountains.  There are boats on the lake and floating lanterns, giving the book an oriental feel and providing a sense of place.
The narrative and illustrations also reflect the changing seasons, adding to the setting and showing the passing of time. Mama encourages Pip to enjoy the achievements and changes that happen as you grow along with the world around you.
The text is constructed through the use of rhythmic, rhyming language with a new idea being explored on each spread. The font throughout the book has been carefully selected to be child like and appeal to a younger audience.  The polka dot end papers that frame the story match Pip's blanket; and also create the sense that this book is for babies and young children.
Pignataro has used water colours and pencils to create the illustrations. The use of green, brown and blue earth colours gives each page a gentle texture; and this paired with the simple text, works to give the book a dreamy feel.
Anna Pignataro has previously brought us the Together and Always books that feature the loveable character Oli; and she is also the creator of the Princess and Fairy picture book series. Our Love Grows is a perfect bedtime story as the combination of the text and illustrations create a soft lyrical tone. This is a beautiful picture book for a child and their guardian to share together and has a powerful message about love.
reviewed by Maria H Alessandrino