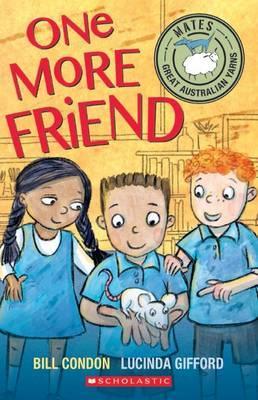 Bill Condon (text),  Lucinda Gifford (illus.),  One More Friend (Mates: Great Australian Yarns),  Scholastic Australia,  June 2016,  64pp.,  $12.99 (pbk),  ISBN: 9781742991184
A recent addition to Scholastic's Mates*series, One More Friend is a fully illustrated chapter book for readers 7+. The story follows Jack's first day at a new primary school, during which he is faced with the challenges of making new friends and finding a way to deal with the resident bully, Mark. Fortunately, Jack's gift – the ability to make people laugh – comes in handy when making friends. However, dealing with Mark is another matter entirely.
The story's theme of mateship works on two levels, as Jack overcomes his problems through kindness, cooperation and good humour, and his class learns about the Aussie tradition of mateship during an author's visit based on her historical book about Gallipoli.
Bill Condon's writing is spot-on, and packed with endearing humour. In combination with Lucinda Gifford's vibrant illustrations, which offer a light-hearted break from reading, this is a book that will grab readers' attention and keep them entertained from the very first page.
I was a little surprised that an animal died very early on in the story. However, the pet mouse's demise was presented in such a matter-of-fact way that it would be unlikely to upset anyone but the most sensitive child, or someone who had recently experienced death in the family. For everyone else, the scene works well to elevate the tension as poor Jack tries to fit in and make a good first impression in his new environment. And I found his subsequent attempt at "mouth-to-mouse" resuscitation hilarious!
One More Friend is a fun read about a topic with which many primary school children will identify. It is especially suited to newly independent or reluctant readers 7+ (Years 2 – 6).
* Scholastic's On Ya Bus blog describes the Mates series as 64-page junior chapter books featuring Aussie stories for Aussie kids, fully illustrated in colour, and designed to capture the attention of even the most reluctant readers.
Reviewed by Julie Murphy