John Flanagan,  The Ghostfaces (Brotherband #6), Random House Australia,  16 May 2016, 386pp.,  $18.99 (pbk),  ISBN 9780857980113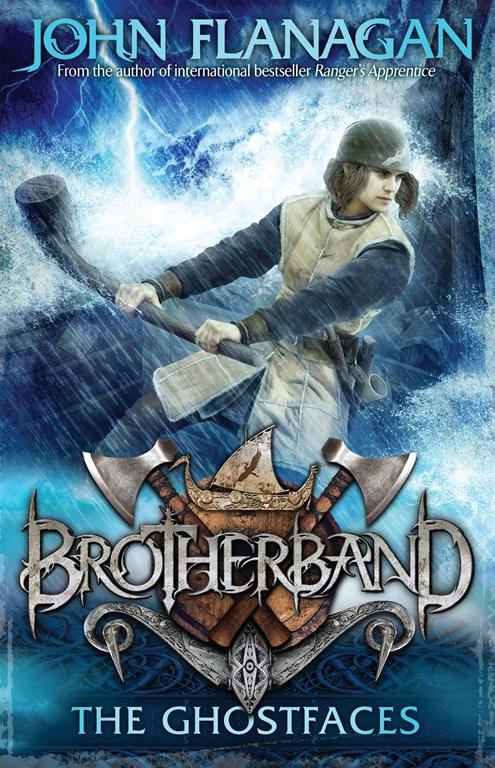 I have never read speculative fiction, or science fiction, so when The Ghostfaces arrived – and it was no.6 in the popular Brotherband series – I did feel somewhat tentative about the enjoyment level this book would deliver.
But deliver it did in what is an action-packed, adventure-driven quest.  The Herons, so-called because of the type of ship in which they sail, make up the Brotherband.  Each of them possess particular skills which gives them the capacity to rise to any occasion that comes their way; when combined, they are undefeatable.
So, when their ship is blown wildly off-course in a ferocious storm, it takes the cleverness and ingenuity of each member of this very capable team (male and female) to ensure their safe arrival at the unknown land of the Mawagansett people.   Through an act of kindness by the Brotherband, these young seafaring warriors are accepted into the Mawagansett forming a fortuitous bond of friendship and trust with the inhabitants of the land.
In amongst all the heroic adventure and discovery, Flanagan has done a great job of presenting some timely considerations for young people – what it is to be part of a team, trusting others and being trustworthy.  This story is one of self-reliance and respecting others – acknowledgement of skill and ability regardless of gender.  Most of all, this story is about supporting those in need of a helping hand.
Young teen readers (and even the not so young) will find themselves rolling and tossing across the oceans, fighting courageously alongside our heroes every step of the way in this very accessible book.  It is a quest where good triumphs over evil, and the protagonists become more resilient and empathetic through the experiences and insights they have gained along the way.
Although Ghostfaces is book No.6 in the Brotherband series, it is very readable as a stand-alone adventure story … but I might just need to read books one to five anyway.
Reviewed by Jennifer Mors