Eli Brown, Oddity, Walker Books, 2021, 363pp., RRP $18.99 (pbk), ISBN 9781406389272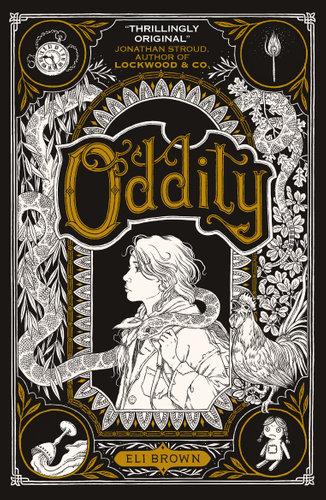 What is an oddity? 13-year-old Clover Elkin wishes she knew. All she does know is that her dead mother collected them and her widowed father only kept one because they are so dangerous. When bounty-hunters track him down to steal it, Constantine throws Clover and his medical bag into the river before he is shot dead, urging her to go to Aaron Agate in New Manchester where The Society will protect her and the oddity.
Clover is fascinated by these magical oddities but has to make sure she survives first. This is an alternate 19th century where the Louisiana Settlement never happened and the Unified States have been at war with Bonaparte. Senator Auburn is collecting oddities (hence the bounty-hunters) to help him defeat the French and become president. Clover discovers she is in great danger but along the way she comes across several strange creatures such as the talking rooster Colonel Hannibal Furlong, a secret-stealing Hat owned by Smalt, travelling merchant Nessa Bleakerman, super-strong Susanna the Doll stitched together by the Seamstress and a Sweetwater rattlesnake. She learns some bitter lessons as to who she can trust but ultimately finds out what the oddity her father saved is and what happened to her mother.
This is a rollicking fantasy adventure combined with alternate history. It is inventive, different and unusual. There is a map at the beginning, occasional black-and-white illustrations by Karin Rytter and a list of oddities from The Journal of Anomalous Objects at the end. The cover is beautifully designed and the whole book is thoroughly recommended.
Reviewed by Lynne Babbage