M.T. Khan, Nura and the Immortal Palace, Walker Books Australia, November 2022, 272 pp., RRP $18.99 (pbk), ISBN 9781529503494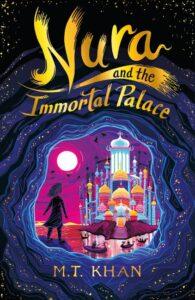 Nura and the Immortal Palace is not a typical middle-grade novel. What starts off as a seemingly simple story about a young, uneducated Pakistani girl working in the mica mines to support her family quickly morphs into a magical adventure story. Khan explores Islamic traditions and themes of struggle, courage, and friendship in creative and insightful ways.
Nura is only twelve yet she, along with many other children, are forced to work the mines from dusk till dawn to put food on the table. Nura is determined to find the legendary Demon's Tongue, a buried treasure that could solve all her problems.
Nura and the Immortal Palace is recommended for readers aged nine years and older. Anyone who enjoys a good fantasy and adventure novel and may wish to learn more about different cultural practices should give this book a read.
Reviewed by India Boon