Sonya Hartnett text) and Gabriel Evans (illustrator), Blue Flower, Penguin Random House Australia, March 2021, 32 pp., RRP $24.99 (hbk), ISBN 9781760894450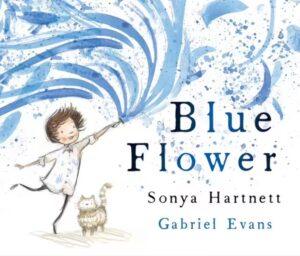 From the prize-winning novelist Sonya Hartnett and fast-rising star of illustrated books, Gabriel Evans, this classic children's tale takes us gently and charmingly into its world. There are welcoming full-page illustrations in watercolour, gouache, and pencil on a palette of light orange, yellow, blue and green, with simply drawn figures whose hair is often wild. The text on each page is clear and brief — and to the point. For instance, on the very first page we learn that our central character, a girl about nine or ten years old, does not want to go to school. She feels uncertain of herself, afraid of making mistakes, and lonely. Only in art classes, where her favourite colour is blue, does she feel some confidence and freedom. Is she otherwise too slow, too serious, too timid, or is she just different? And if you're different, is that something to celebrate, or something to worry about?
She explores these questions with her cat, Piccolo, out in the yellow fields under a wide sky, with the world whirling around her at sunset, and every now and again, a blue flower will show itself to her as a mark of difference.
This gentle book is a serious, but lightly told meditation on what it's like to be beginning to feel like yourself. In the wider contemporary context of fluid and multiple gender identities, diversity in ethnic identification, and special needs children's battle for equality of opportunity, this contribution to understanding difference resonates. Highly recommended for readers from six to ten years, and beyond.
 Reviewed by Kevin Brophy